Note: Please click the individual calendar entries to get to the daily posts – from there, you can use either the calendar to get to the next available day or you use the small link at the top of each daily entry to move back and forth.
September 1944
A good entry point into the history of jet-propelled night fighting and 10./NJG 11 (also known as "Kommando Welter"[1]engl.: "Detachment Welter" ) is September 1944 – the Staffel does not exist by then but Kurt Welter is transferred to 10./JG 300 in early September 1944[2]A transscript of Kurt Welter's Wehrpass, his service record, shows his transfer to 10./JG 300 on September 4, 1944. I was unable review the original document which has disappeared without a trace.. The unit is equipped with Messerschmitt Bf 109 G-6 and G-14. Their targets: the Mosquitos of the Royal Air Force's Light Night Striking Force.
The Bf 109 cannot match the "Mossies" speed – consequently, there is only one way a Bf 109 can intercept a fast-flying Mosquito: attacking it in a steep dive from superior altitude. It's a speedy attack – the pilots, often waiting for their prey in 10.000 m or above, only have a few moments to identify the Mosquito – illuminated from the searchlights below. Attacking it, bringing it down at best, is a matter of timing, experience, and luck. Not an approach that promises the regular positive result for the night fighters.
It is no surprise that John Foreman only lists 11 claims for Mosquitos for the whole month of September 1944 – and all of them by pilots of 10./JG 300[3]Foreman, John et al: Luftwaffe Night Fighter Combat Claims 1939 – 1945; Page 215 ff.. Six of those claims are going to a single pilot: Kurt Welter.
In September 1944, the men of 10./JG 300 are placed at Jüterbog, a location that puts them right into the approach path for the Mosquitos en-route to one of their favorite targets: Berlin. In mid September, all Gruppen of JG 300 are moved to the West to help counter Operation Market Garden – only the Mosquito-hunters of 10./JG 300 remain in their location at Jüterbog.
September 1944

Mo

Di

Mi

Do

Fr

Sa

So

35

1

3

36

4

5

6

7

8

9

37

16

17

38

19

20

21

22

23

24

39

25

26

27

28

29

30
October 1944
At the beginning of October 1944, the Geschwader is back in Jüterbog, having returned from their temporary duties in the West. III./JG 300 is reported in Jüterbog-Damm October 1st, 1944[4]Lorant, Jean-Yves et al.: JG 300 "Wilde Sau" – Vol. 2; a.a.O., Page 33. Mid-October 1944, Kurt Welter is awarded the Ritterkreuz and as far as we know today, this also is the time-frame where he seeks and gets permission to evaluate a very special aircraft for the nightly Mosquito-hunting: the Messerschmitt Me 262, the world's first operational jet fighter.
October 1944

Mo

Di

Mi

Do

Fr

Sa

So

39

1

40

2

3

4

7

8

41

9

10

12

13

15

42

16

17

19

20

21

22

43

24

25

26

28

29

44

31
November 1944
November 1st, 1944, brings a major change to the Luftwaffe units facing the Mosquitos: 10./JG 300 – the "Mosquito-Hunters", is dissolved and becomes the "nucleus" of II./Nachtjagdgeschwader 11.
The new II. Gruppe has three Staffeln: the 4. Staffel[5]the Staffelkapität of 4./NJG 11 is currently unknown, the 5. Staffel (led by Lt. Jörg Czypionka), and the 6. Staffel (led by Lt. Karl Mitterdorfer). The Gruppe itself is led by Hptm. Herbert Böttcher. Their operational airfield is Jüterbog-Waldlager (also known as Jüterbog – Altes Lager).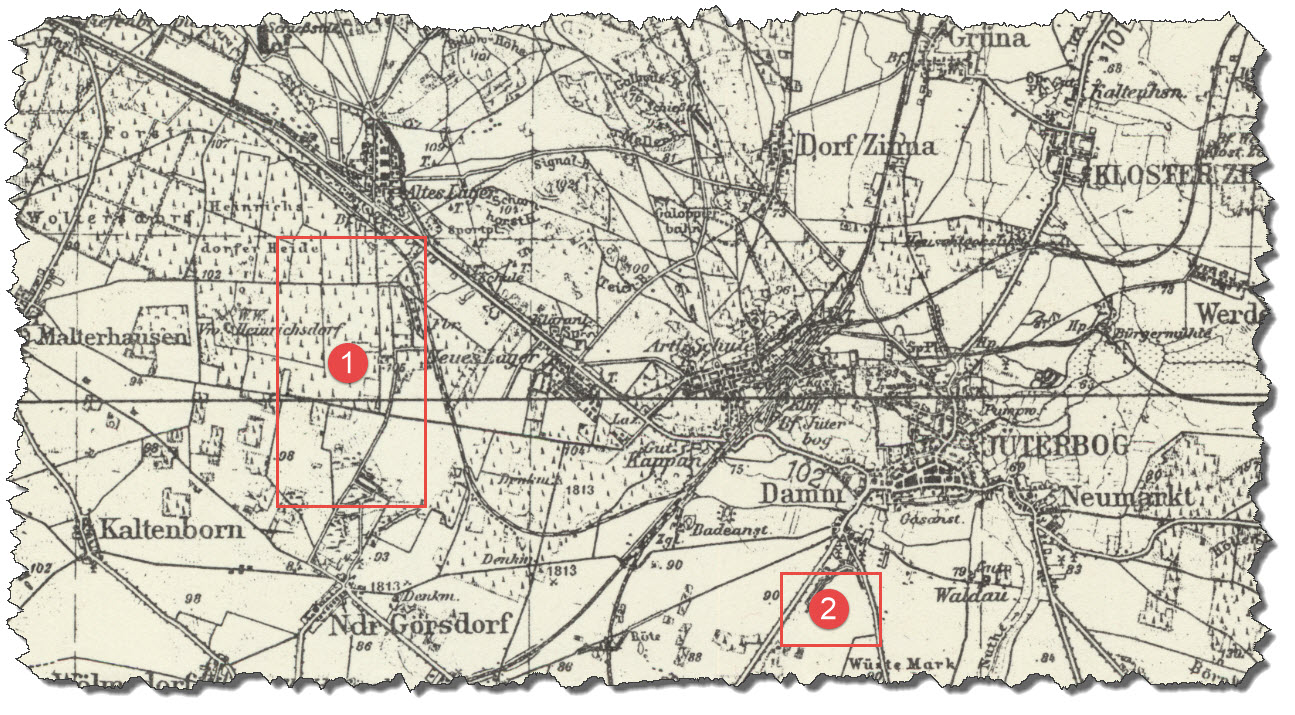 The map above shows the city of Jüterbog with the two airfields roughly marked: "Red 1" is Jüterbog-Waldlager, "Red 2" is Jüterbog-Damm.
Kurt Welter – so his Wehrpass shows – is attached to the newly formed II. Gruppe / Nachtjagdgeschwader 11 – II./NJG 11 – and continues his evaluation of the jet for nocturnal missions.
The weather must have been clearing up – Royal Air Force crews explicitly mention their ability to distinguish built-up areas from water areas in Berlin – which means that not only the raids on Berlin could resume – it also means, that it was excellent "hunting" time for the Mosquito hunters. Which means that also Kurt Welter was actively pursuing his targets on what he will later recall as "a handful" of nocturnal missions – and he probably is able to claim his first victim towards the end of the month.
November 1944

Mo

Di

Mi

Do

Fr

Sa

So

44

2

4

5

45

6

7

8

9

10

11

12

46

13

14

16

17

18

19

47

20

21

22

23

26

48

28

29

30
December 1944
On December 1st, 1944, Kurt Welter receives his promotion to Oberleutnant[6]Transcript Wehrpass Kurt Welter. Around this time, he must have actively been pursuing the recruitment of experienced pilots for his unit – and he was looking for men that had accumulated plenty of experience as flight instructors and/or night fighters among the "Wilde Sau" units. Later in December, in the second half of the month, the first of these men will join him at Rechlin-Lärz to get accustomed to the new aircraft.
Mo

Di

Mi

Do

Fr

Sa

So

48

1

2

3

49

4

5

7

8

10

50

12

13

14

16

51

19

20

21

22

23

24

52

25

26

27

28

29

30
January 1945
January 1945 – less than 150 days from the end of the war in Europe – sees "Kommando Welter" pick up pace. The unit will change from a "single man's shop" into a small group of pilots trying their best to counter an overwhelming enemy attacking their homeland.
Men on both sides will die in these last days of the war – those that survive will have to find their way back into a life without war, trying to get back on track building their future.
Throughout January 1945, Kurt Welter remains the sole pilot of his small unit to fly nocturnal missions – but his fellow comrades are more and more developing their skills and their first combat missions are not far. Also, by the end of the month, what started as "Kommando Welter" will become 10./NJG 11 – and the now formally established Gruppe will relocate to their new home base, Burg near Magdeburg.
January 1945

Mo

Di

Mi

Do

Fr

Sa

So

01

1

3

6

7

02

8

9

11

12

03

16

17

18

19

04

22

23

24

26

05

30

31
February 1945
February 1945 sees the first operational missions flown by Kommando Welter, or 10./NJG 11 as it is officially designated now. It will see the first successes – but also a series of losses to men and material while the unit is scaling up operations.
February 1945

Mo

Di

Mi

Do

Fr

Sa

So

05

3

06

7

8

9

11

07

12

13

16

08

09
March 1945
March was the height of operations for 10./NJG 11 – for a few weeks only, towards the end of the month, the unit would see regular nocturnal action with a significant percentage of their strength.
March 1945

Mo

Di

Mi

Do

Fr

Sa

So

09

10

11

12

13

28
April 1945
In late March, the US Forces had crossed the Rhine River north of Düsseldorf,  around Koblenz and south of Mainz, relentlessly pushing back what remained of the Wehrmacht in the west. In early April 1945, the western allies had pushed forward, encircling Heeresgruppe B in the Ruhrgebiet and reaching German cities as far north as Rheine and Osnabrück, Gotha and Suhl, Aschaffenburg, Würzburg, and Heilbronn. In the East, the Soviet Red Army had reached the Oder River, heading straight for the German capital, Berlin.
For the men of 10./NJG 11, April 1945 starts with a period of bad weather – closed layer of clouds at 4.000 m, 10 km visibility. Only around Aprl 4th, things are clearing up. The nocturnal missions continue until on April 10th, 1945, the 8th USAAF puts an end to many of the jet operations by pounding the airfields of the Luftwaffe in a consolidated strike. Following the attack, 10./NJG 11 is losing their base at Burg/Magdeburg and has to relocate to the Lübeck area.
April 1945

Mo

Di

Mi

Do

Fr

Sa

So

13

14

15

16

22

17

23

24

26

27

29

18
May 1945
As early as May 1st, 1945,  the advancing British 11th Armoured Division must have pushed 10./NJG 11 out of their interim airfield on the Autobahn near Reinfeld. Their last station until the end of the war was the airfield at Schleswig-Land where they were finally found and interned by the British forces.
May 1945

Mo

Di

Mi

Do

Fr

Sa

So

18

1

2

3

4

5

19

7

20

21

22
| | | |
| --- | --- | --- |
| 1. | ↑ | engl.: "Detachment Welter" |
| 2. | ↑ | A transscript of Kurt Welter's Wehrpass, his service record, shows his transfer to 10./JG 300 on September 4, 1944. I was unable review the original document which has disappeared without a trace. |
| 3. | ↑ | Foreman, John et al: Luftwaffe Night Fighter Combat Claims 1939 – 1945; Page 215 ff. |
| 4. | ↑ | Lorant, Jean-Yves et al.: JG 300 "Wilde Sau" – Vol. 2; a.a.O., Page 33 |
| 5. | ↑ | the Staffelkapität of 4./NJG 11 is currently unknown |
| 6. | ↑ | Transcript Wehrpass Kurt Welter |