April 20th, 1945, sees the last attack of the Royal Air Force on Berlin – a last mission of 79 Mosquitos, flown during the night to April 21st, 1945. At 02:14 hrs., the last bombs are falling on "the Big City" and the Berlin Express comes to an end. The Red Army has entered the city and the British are well aware of difficulties friendly fire might cause.
Around the same time, the regular Morning Reports and Evening Reports of the Luftwaffeführingsstab Ic cease – the last days of the war, they are only occasionally available and much less detailed than in the past. Things are coming to an end.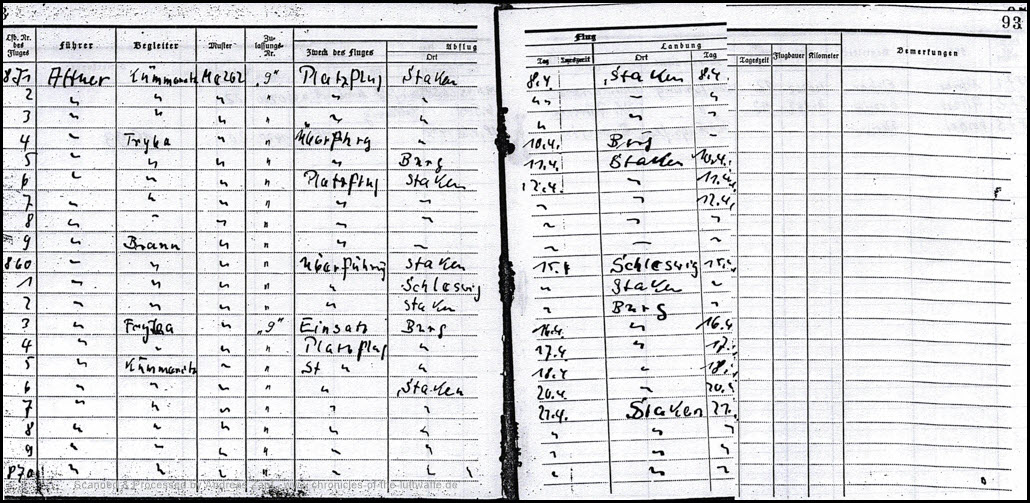 Lt. Herbert Altner's flight log shows a flight from and to Berlin-Staaken. Usually, Berlin-Staaken means the acceptance for a Messerschmitt Me 262 B-1a/U1 although this is really late in the war and possibly not the case as it would suggest the acceptance of a sixth aircraft when only five are currently known.
If Altner's log would be correct, he would have been there only briefly before the Red Army takes over the airfield on April 26th, 1945. Also present at the airfield should have been 1./NJG 100 (leaving Berlin-Staaken April 21st, 1945), the very last units to fly from Berlin-Staaken were the Fliegerstaffel des Führers and the Kurierstaffel des Oberbefehlshabers der Luftwaffe which both are leaving April 24th, 1945. On April 26th, 1945, the Red Army is then reaching the airfield, ending its service for the Luftwaffe.