After a few days of absence from "the target" – Berlin – the Light Night Striking Force is back the night of October 11th, 1944 to October 12th, 1944. This time, a total of 46 Mosquitos[1]Middlebrook, Martin et al.; The Bomber Command War Diaries; a.a.O, Page 599 are approaching the German capital – the Luftwaffe may have been up to intercept them but there are no claims made.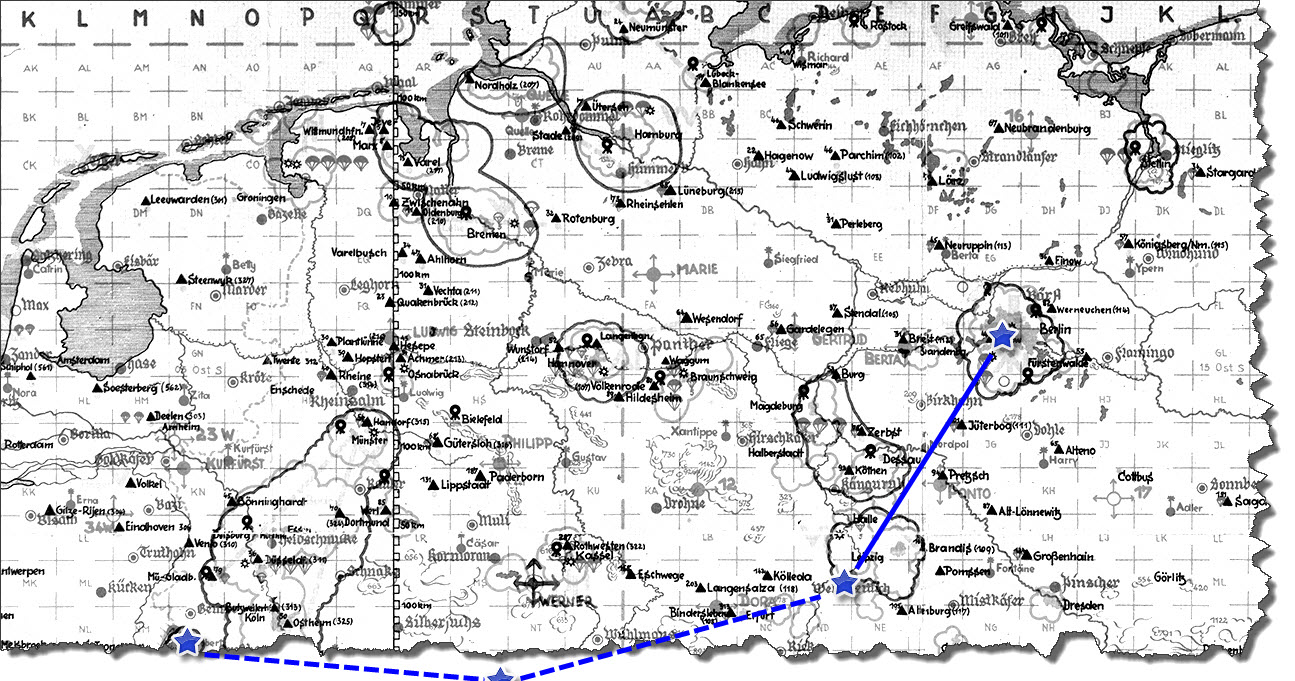 Nonetheless, the Royal Air Force is losing one of the attacking Mosquitos – maybe due to flak, maybe due to a catastrophic failure of a vital system, nobody knows.

An entry in one of the Records of Events, the one of No. 139 Sqn., indicates the presence of night fighters: Mosquito KB162, flown by F/LT Howard and F/LT Cooper, was attacked by a Junkers Ju 88 night fighter but managed to evade[2]No 139 Sqn. Records of Events, October 1944 (AIR 27/961) .
The Bomber Command Report on Night Operations for October 11th/12th, 1944, says:
"Berlin: 38/46 Mosquitos attacked Berlin in cloudless but hazy weather. Only one of the seven Y-aircraft dropped markers, and most crews bombed on D.R. The attack was rather scattered. Seven aircraft bombed alternative targets at Hannover, Cologne and Coblenz; one was abortive and one was lost.
Enemy Defences: slight heavy flak at Berlin, although searchlights were active. A Mosquito was attacked by a fighter on the way home, but escaped.
Casualties: One Mosquito was lost without trace on Berlin."[3]Bomber Command Reports on Night Operations, 11/12th October 1944 (AIR 14/3412)
| | | |
| --- | --- | --- |
| 1. | ↑ | Middlebrook, Martin et al.; The Bomber Command War Diaries; a.a.O, Page 599 |
| 2. | ↑ | No 139 Sqn. Records of Events, October 1944 (AIR 27/961) |
| 3. | ↑ | Bomber Command Reports on Night Operations, 11/12th October 1944 (AIR 14/3412) |