While the Nachtjagd was re-organizing the Mosquito-hunting units, now transferring the task "formally" to a Nachtjagdgeschwader, II./NJG 11, the Royal Air Force is exploiting the good weather conditions and attacks Berlin during the night of November 1st, 1944, to November 2nd, 1944.
The Mosquitos are approaching their target via the "northern" route, flying over the German Bight,  Lübeck and then on to Berlin[1]Mehner, Kurt (Hrsg.): Die geheimen Tagesberichte der Deutschen Wehrmachtführung; a.a.O; Page 179.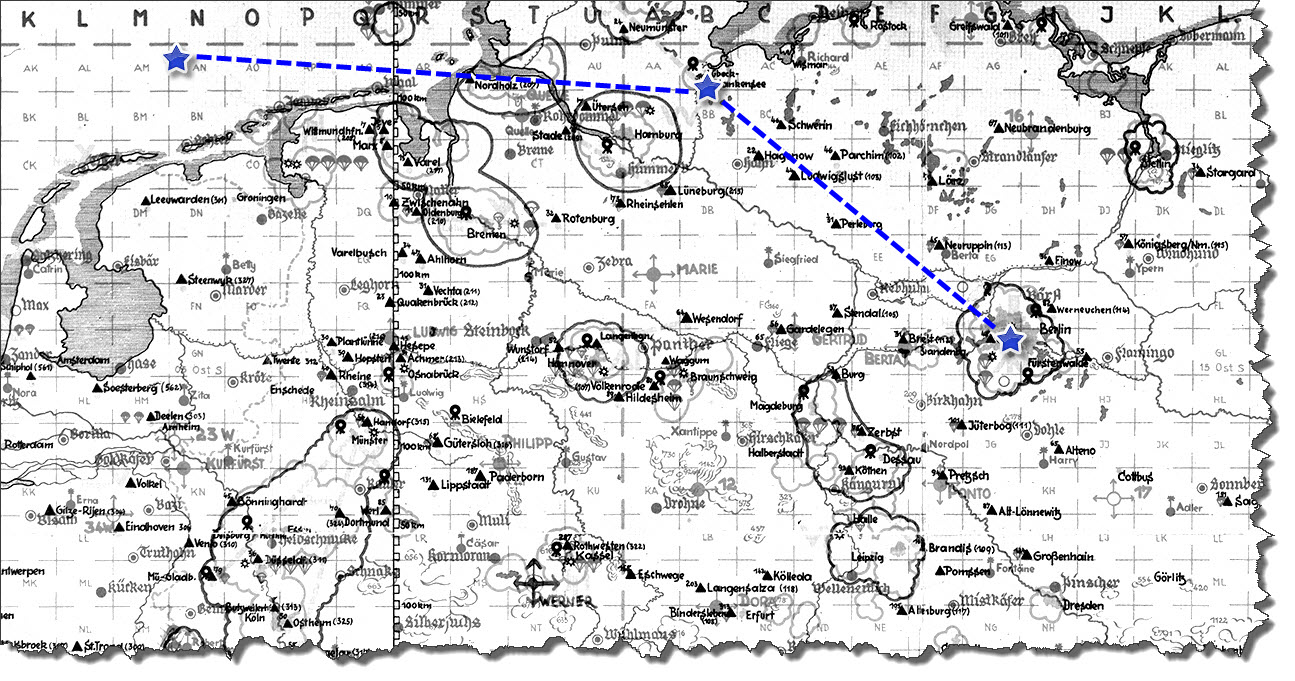 Despite the good weather conditions, there are no records about activities of the Luftwaffe. The British crews, however, do report encounters with their German adversaries: first, the crew of S/L Rix and F/L Perry, flying MM189, are hunted and attacked by a night fighter. They can escape but the evasive maneuvers are burning more fuel than they like and consequently, they are aborting the missions, returning home[2]No. 139 Sqn. Records of Events, November 1944 (AIR 27/961) .
Another crew, this time of No. 608 Sqn., has an encounter of "a special" kind: W/O Turner and Sgt. Smith are reporting an encounter with a jet-propelled aircraft in the Lübeck area. They decide to attack an alternate target nearby, drop their bombs and turn back home. They are back at their airfield by 20:42 hrs[3]No. 608 Sqn. Records of Events, November 1944 (AIR 27/2101) .
Two Mosquito of No. 571 Sqn. are seeing night fighters but are not attacked: the crew F/L Monk and Sgt. Meyer are reporting two night fighters, the crew F/L Jones and Sgt. Goldwater are reporting one enemy aircraft[4]No. 571 Sqn. Records of Events, November 1944 (AIR 27/2044) .
Last but not least, the Report of Events of No. 692 Sqn. explicitly mentions the sighting of two jet aircraft.

These are all very good hint (but no proof!) that Kurt Welter might have used this clear night for one of his early experimental nocturnal missions with the Messerschmitt Me 262. If so, he would have flown the aircraft out of the Erprobungsstelle der Luftwaffe, the Experimental Aircraft Center of the German Air Force, in Rechlin-Lärz.
Officially, his Wehrpass[5]the official Service Record of a Soldier shows his assignment to II./NJG 11 as of November 2nd, 1944 – with the explicit task to verify the usability of the jet for nocturnal missions.
Despite a lack of clear, documented evidence, the beginning of Kurt Welter's nocturnal jet flights must have been in around this time in 1944, various secondary sources support this timing[6]Jurleit, Manfred; Strahljäger Me 262 im Einsatz; a.a.O., Page 82, [7]Smith, J. Richard et al.; Me 262 Volume 3; a.a.O., Page 452.
| | | |
| --- | --- | --- |
| 1. | ↑ | Mehner, Kurt (Hrsg.): Die geheimen Tagesberichte der Deutschen Wehrmachtführung; a.a.O; Page 179 |
| 2. | ↑ | No. 139 Sqn. Records of Events, November 1944 (AIR 27/961) |
| 3. | ↑ | No. 608 Sqn. Records of Events, November 1944 (AIR 27/2101) |
| 4. | ↑ | No. 571 Sqn. Records of Events, November 1944 (AIR 27/2044) |
| 5. | ↑ | the official Service Record of a Soldier |
| 6. | ↑ | Jurleit, Manfred; Strahljäger Me 262 im Einsatz; a.a.O., Page 82 |
| 7. | ↑ | Smith, J. Richard et al.; Me 262 Volume 3; a.a.O., Page 452 |