Despite a slight deterioration in the weather conditions, the Royal Air Force remains "loyal" and is paying another visit to Berlin the night of November 3rd, 1944, to November 4th. 54 aircraft are involved, reaching the city in the early morning hours of the 4th[1]Middlebrook, Martin et al.; The Bomber Command War Diaries; a.a.O, Page613.
Once more, their approach route to the German capital is the "northern" route via German Bight, Husum, Schleswig, Lübeck and Schwerin[2]Mehner, Kurt (Hrsg.): Die geheimen Tagesberichte der Deutschen Wehrmachtführung; a.a.O; Page 183.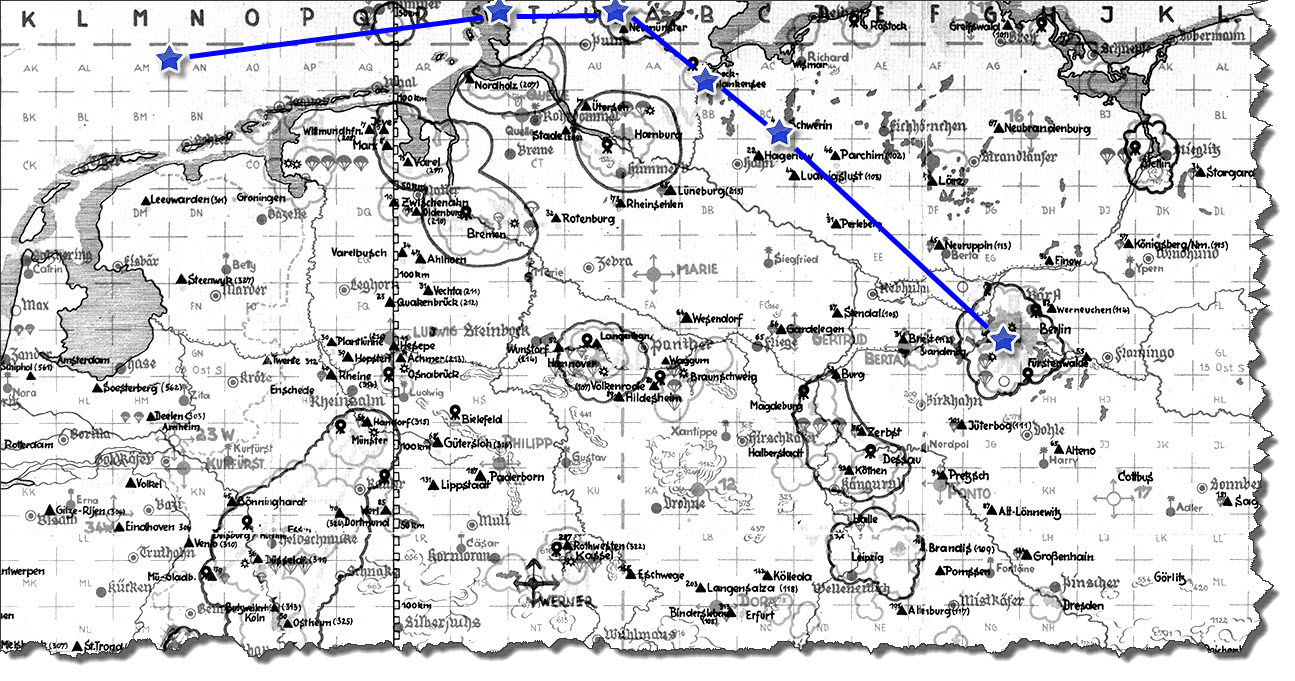 No defensive action is recorded by the Luftwaffe units this night, still, at least one Mosquito, KB191, flown by F/L Robins and F/O Snelling is subject to a night fighter attack. They can evade the attacker and continue their target run.
The Bomber Command Report on Night Operations is providing the following information:
"Berlin: 54/55 Mosquitos bombed Berlin in conditions of 10/10ths thin cloud (tops 10/16.000 ft.). Markers were well concentrated and bombing was well confined to the marked area. The remaining Mosquito bombed the approximate target area. No aircraft was lost."[3]Bomber Command Reports on Night Operations, 3/4th November 1944 (AIR 14/3412)
| | | |
| --- | --- | --- |
| 1. | ↑ | Middlebrook, Martin et al.; The Bomber Command War Diaries; a.a.O, Page613 |
| 2. | ↑ | Mehner, Kurt (Hrsg.): Die geheimen Tagesberichte der Deutschen Wehrmachtführung; a.a.O; Page 183 |
| 3. | ↑ | Bomber Command Reports on Night Operations, 3/4th November 1944 (AIR 14/3412) |