Once more, the weather brings Berlin a break from the nightly bombardments – after nine days of absence though, the Royal Air Force is back the night of November 24th/25th, 1944.
Still, the weather is bad – the British crews are reporting think layers of clouds up to 27.000 ft, unlikely that the Luftwaffe was up and intercepting the raid under these conditions. The Light Night Striking Force is sending out 57 Mosquitos – and all of them safely return home[1]Middlebrook, Martin et al.; The Bomber Command War Diaries; a.a.O, Page 622
This time, the "Mossies" are approaching their target on the "center" route, flying to Berlin via Hannover[2]Mehner, Kurt (Hrsg.): Die geheimen Tagesberichte der Deutschen Wehrmachtführung; a.a.O; Page 236.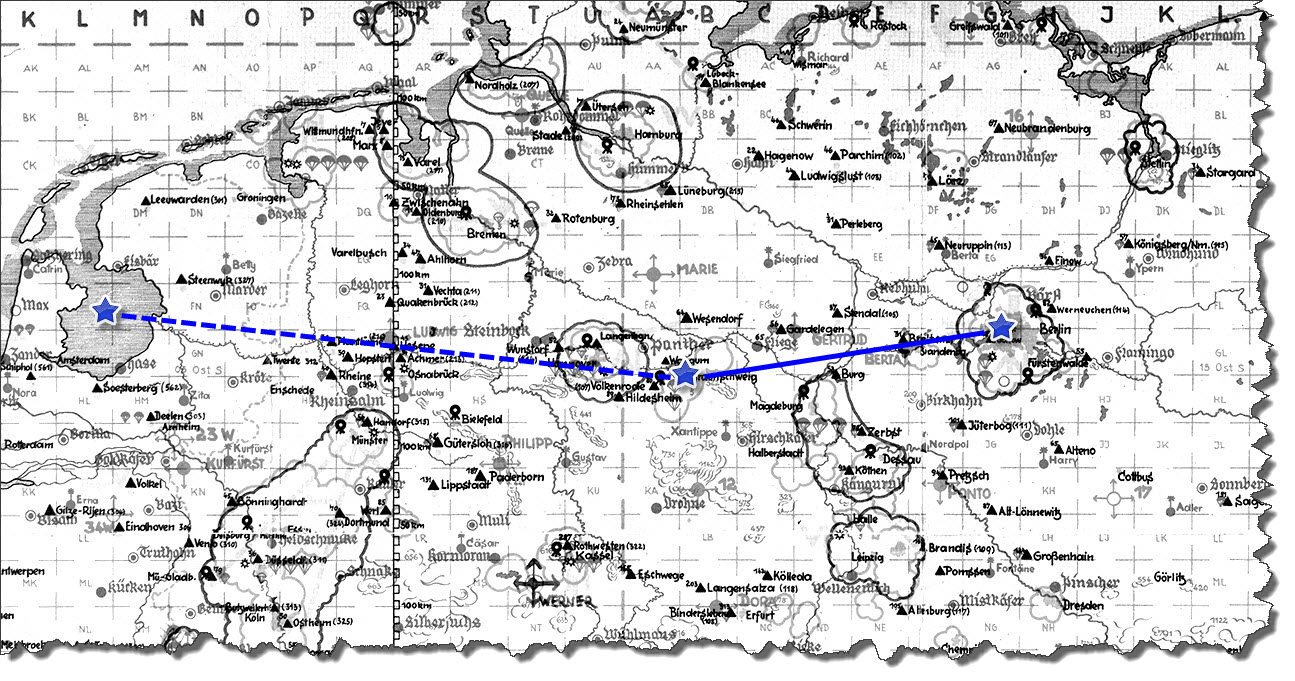 How bad the weather situation really was is described in the Bomber Command Report on Night Operations:
"Berlin: 57/58 Mosquitos attacked Berlin through 10/10 ths. clouds (tops 27.000 ft.). Some aircraft bombed on glow of markers and some by means of navigational aids. 1 aircraft was abortive. None was lost."[3]Bomber Command Reports on Night Operations, 24/25th November 1944 (AIR 14/3412)
| | | |
| --- | --- | --- |
| 1. | ↑ | Middlebrook, Martin et al.; The Bomber Command War Diaries; a.a.O, Page 622 |
| 2. | ↑ | Mehner, Kurt (Hrsg.): Die geheimen Tagesberichte der Deutschen Wehrmachtführung; a.a.O; Page 236 |
| 3. | ↑ | Bomber Command Reports on Night Operations, 24/25th November 1944 (AIR 14/3412) |