On November 27th, 1944, the weather cleared up and the Royal Air Force pilots are reporting clear skies with some ground fog as the 65 Mosquitos are reaching Berlin around 19:00 hrs[1]Middlebrook, Martin et al.; The Bomber Command War Diaries; a.a.O, Page 623,[2]Mehner, Kurt (Hrsg.): Die geheimen Tagesberichte der Deutschen Wehrmachtführung; a.a.O; Page 244. Defensive actions by the German Luftwaffe and Ground Defences are low, very much to the surprise of the crews.
The Bomber Command Report on Night Operations also contains a clear reference to the good weather conditions:
"Berlin: 60/67 Mosquitos attacked Berlin between 1902 and 1914 hours. The capital was clear of cloud, and the bombing was good, although the marking area was rather scattered. Crews identified several landmarks in the city, and reported that the bombing was accurately placed in the built-up area. No further losses were sustained on this night."[3]Bomber Command Reports on Night Operations, 27/28th November 1944 (AIR 14/3412)
Despite clear evidence, at least some Luftwaffe activity is possible: Kurt Welter may have been up in the air on one of his early experimental flights out of Rechlin-Lärz. He himself will later state that he had "less than two handful of flights with the Me 262 during the timeframe November 1944 – January 1945".
It is said that in this night from November 27th, 1944, to November 28th, Kurt Welter claims his first victory with a Messerschmitt Me 262 over a Mosquito[4]Smith, J. Richard et al.; Me 262 Volume 3; a.a.O., Seite 452 – if so, it would have been the very first nocturnal victory with a jet fighter in aviation history.
The Lack of Evidence…
The problem: there is no evidence by primary sources! The closest I was able to get so far is a reference[5]Jurleit, Manfred; Strahljäger Me 262 im Einsatz; a.a.O., Page 82 given to a teletype message, coming from Generalleutnant Joachim-Friedrich Huth as Commanding Officer I. Jagdkorps to Oberst Petersen, Commanding Officer of the Test Centers, dated November 28th, 1944: it refers to the victory over a Mosquito by Kurt Welter and extends "Dank für den Erfolg und Glück für weitere Erfolge"[6]"Thanks for the success and good luck with further successes!". Unfortunately, I have yet to locate a copy of this document…
What remains is a "reversed proof" that looks at Mosquito operations and Mosquito losses (or at least damages) during the last days of November 1944. Such an overview is provided (at least for RAF 8 Group and RAF 100 Group) by the Summaries of Aircraft Damaged on Operations[7]Summaries of Aircraft Damaged on Operations – Dec 1942 – May 1945 (AIR 14/3460); Pages 336 ff..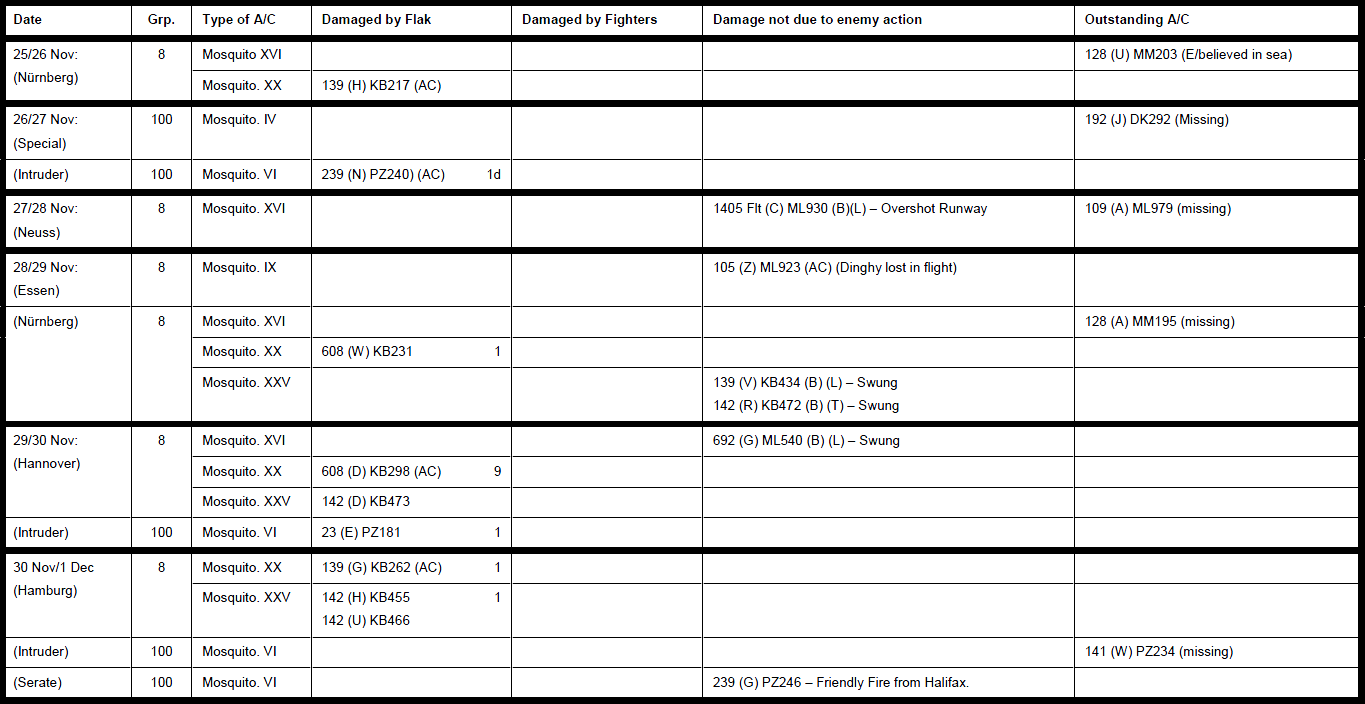 Looking at the last days of November, a total of 9 Mosquitos damaged by flak, no Mosquito damages by enemy fighters, and 5 Mosquitos missing in action are listed. The Mosquitos "damaged not due to enemy action" can safely be discounted as "options". Which leaves five Mosquitos to look at closer:
Mosquito MM203, No. 128 Sqn. – lost near Calais
Mosquito MM203 of No. 128 Sqn. is lost in the night November 25th/26th, 1944. She takes off in Wyton at 01:02 hrs, flying a mission to Nürnberg. On their way home, she develops engine problems which finally results in the crew abandoning the aircraft off the French coast, near Calais. Both crew members are picked up by the Royal Navy.

The loss of this Mosquito is well documented and the two surviving crew members do not mention any kind of attack on them. The loss of this aircraft can very likely be attributed to "technical failure".

The Squadron's Records of Events lists this aircraft as MM202, not MM203!
Mosquito DK292, No. 192 Sqn. – the "Mystery Mosquito"
Mosquito DK292 of No. 192 Sqn. is leaving her base at 02:58 hrs on November 27th, 1944. The Squadron's Records of Events incorrectly lists her under November 26th, 1944 (the flight recorded directly before this entry is November 26th, 1944 – 23:42 hrs) so more likely, her take off date was November 27th.

DK292 was assigned to a special mission to München, at least this is what the Records of Events state. What follows is a bit of a mystery: the aircraft is lost and no sound information has been provided on the loss.

Her Loss Card (and also many others!) is available via www.lancasterbombers.net – a site well worth visiting!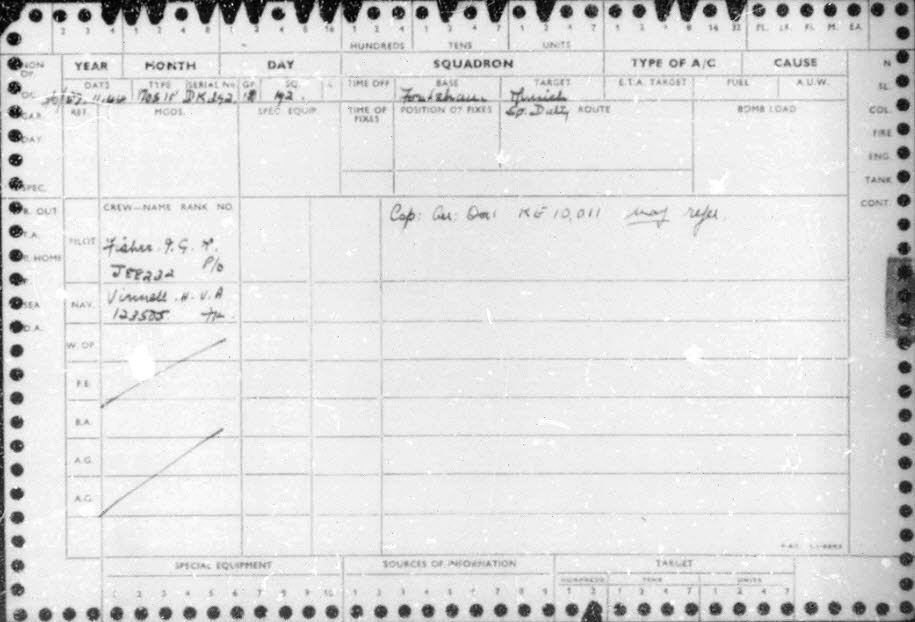 One of the things that adds to the confusion is the reference to the KE 10.011 document which "may refer": the back side of the Loss Card shows a possible crash location specified there as "3 km south west Reichsstrasse, Coesfeld".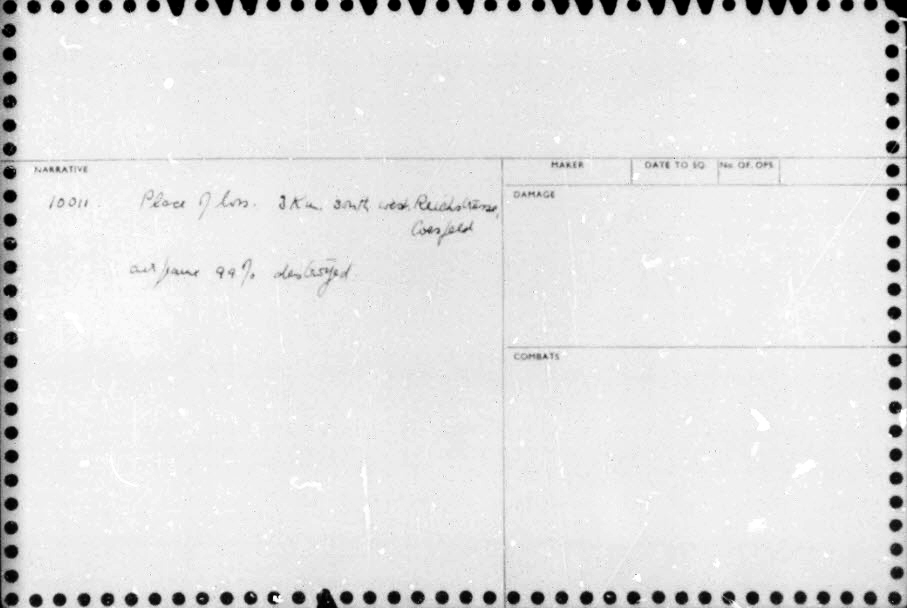 I think, the "may refer" is actually wrong – it seems like DK292 is not the Mosquito lost near Coesfeld (which would have made her a possible target for Kurt Welter's nocturnal claim): in conversations with Janine Harrington, information was revealed that suggests that the loss near Le Havre is more likely – and is even backed by memories and statements of the survivors of RAF 100 Group that remember the two men. Go an see Janine's site about Nina & Vic here.
Mosquito ML979, No. 109 Sqn. – Crashed into the IJsselmeer
Mosquito ML979 is leaving her base at Little Staughton at 18:38 hrs on November 27th, 1944. Her assigned target is the city of Neuss. Most likely due to engine failure, the aircraft crashes into the IJssellmeer, her pilot, F/LT Williamson, is taken prisoner, her navigator, F/O Kitchen, is killed.

She is no candidate for a nocturnal victory by Kurt Welter. You may want to visit this website for further details.
Mosquito MM195, No. 128 Sqn. – Lost without trace
Mosquito MM195 was flying a mission against Nürnberg, leaving her base in Wyton at 17:25 hrs. on November 28th, 1944. Nothing was heard of her and her crew ever since.

The fate of this aircraft and its crew is pretty much in the dark – there is a small chance she came down near the city of Mayen in western Germany but no strong evidence to support this.

Mosquito PZ234, No. 141 Sqn. – Lost over the Ruhr
Another Mosquito, PZ 234, is lost while flying a night fighter mission over the Ruhr area. Her pilot, P/O Lampkin, is taken prisoner, the navigator, P/O Wallnut, dies in the crash.

This loss only happens November 30th, 1944, some nights after the supposed claim, but she is the fifth Mossie lost around end of November 1944 from RAF 8 Group or RAF 100 Group.
Some more Mosquito losses are recorded for the 2nd Tactical Air Force: one of their Mossies, HP913, is lost near Reimes, France.

Another one, PZ333, is lost near Wessel in the Netherlands.

A final one, PZ278, is lost – she might be the one lost near Coesfeld.

Finally, two more Mossies are lost in the evening hours of November 26th, 1944, both over Holland – Mosquito HR353 and Mosquito HP934.
Conclusive Evidence?
I don't think so – looking at the 8 Mosquitos discussed in detail and the two additional ones lost over Holland, I draw the following conclusions (my personal interpretation):
Kurt Welter, flying from Rechlin-Lärz, would not have been in a position to reach locations as far west as Holland – which makes me discount Mosquitos ML979, PZ333, HR353, and HP934 as possible options.
Two Mosquitos were very likely lost over the British Channel – MM203 reportedly crashed into the sea, DK292 very likely hit a mine off the coast near Le Havre. The two are also no possible options for a claim made by Kurt Welter.
Mosquito PZ234 is also very far in Germany's west and her loss is dated November 30th, 1944, which also make be think she can be discounted as viable option.
Mosquito HP913 is lost over France, reportedly damaged by flak. I would also very strongly suggest to discount her as an option.
Which leaves two Mosquitos – PZ278 (lost in the early morning hours of November 26th, 1944) and MM195 (lost during an evening mission beginning November 28th, 1944). Neither of the two is lost the night the claim supposedly was made for (Night November 27th/28th, 1944)
The only Mosquito reported missing this very night is ML979 which is lost over the IJsselmeer – too far west for Welter.
At the moment, the material at hand does not support a nocturnal victory over a Mosquito if the claim was made as stated. I will try to locate a copy of the mentioned teletype and I am looking forward to seeing more information and evidence. The case – at least for now – remains open!
| | | |
| --- | --- | --- |
| 1. | ↑ | Middlebrook, Martin et al.; The Bomber Command War Diaries; a.a.O, Page 623 |
| 2. | ↑ | Mehner, Kurt (Hrsg.): Die geheimen Tagesberichte der Deutschen Wehrmachtführung; a.a.O; Page 244 |
| 3. | ↑ | Bomber Command Reports on Night Operations, 27/28th November 1944 (AIR 14/3412) |
| 4. | ↑ | Smith, J. Richard et al.; Me 262 Volume 3; a.a.O., Seite 452 |
| 5. | ↑ | Jurleit, Manfred; Strahljäger Me 262 im Einsatz; a.a.O., Page 82 |
| 6. | ↑ | "Thanks for the success and good luck with further successes!" |
| 7. | ↑ | Summaries of Aircraft Damaged on Operations – Dec 1942 – May 1945 (AIR 14/3460); Pages 336 ff. |