The night of September 11th, 1944, to September 12th sees the Mosquitos back over Berlin. And once more, the Messerschmitt Bf 109 of 10./JG 300 are in the air to counter their attack.
All in all, the Mosquito crews are much more appreciating the effort of the night – and at least the keeper of No. 139 squadron's records seems to assume that they in fact did enjoy the ride:
"The Squadron had plenty of excitement during the attack on BERLIN, when 11 aircraft including 9 Markers made a return visit. Altogether 48 Mosquitos made up the force and this number, as on the previous night constituted a record for the Light Striking Force."[1]No. 139 Sqn. Records of Events, September 1944 (AIR 27/961/18)
Their inbound route had followed the same approach than the night before, the northern approach via the German Bight and the Elbe estuary, then on to Hamburg and from there to Berlin. No detailed records of the bombed locations are available but mostly, the Mosquitos hit the western suburbs this night.[2]Mehner, Kurt (Hrsg.): Die geheimen Tagesberichte der Deutschen Wehrmachtführung; a.a.O; Page 28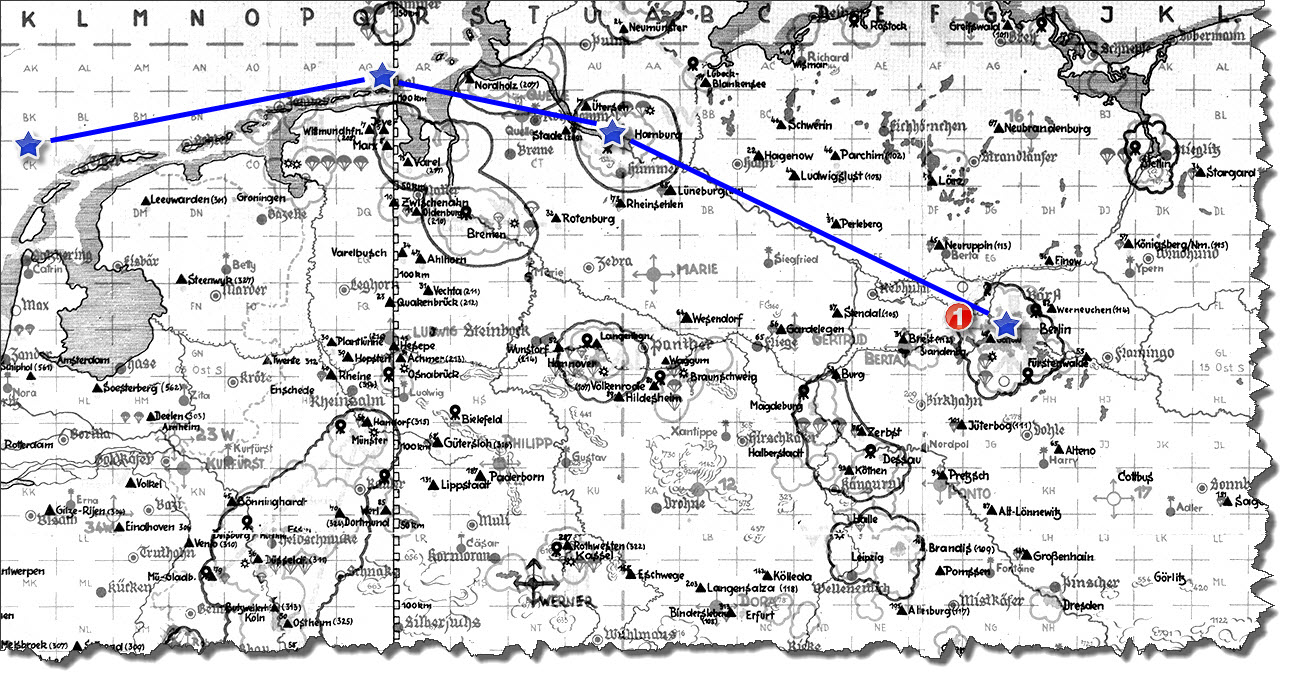 This time, the Luftwaffe pilots are successful – Kurt Welter of 10./JG 300 claims a Mosquito at location 15 Ost S / FG 4 around 22:58 hrs[3]Lorant, Jean-Yves et al.: JG 300 "Wilde Sau" – Vol. 1; a.a.O., Page 384. The location is just north of the small city of Falkensee, west of Berlin. The maps marks the location as "Red 1".
The losses of the Royal Air Force Bomber Command match up – one is recorded for the night, a Mosquito of No. 139 Sqn.

The No. 139 Squadron's "Records of Events" confirms the loss, it is attributed to flak though. The loss has been observed by some of the other crews, the event is explicitly described by returning squadron members.[4]No. 139 Sqn. Records of Events, September 1944 (AIR/27/961)
Other Mosquito crews also "cross swords" with the German night fighters, F/O Fletcher and F/S McCorkindale of No. 571 Sqn. are reporting the attack of a single-engined fighter in the target area around 23:10 hrs. – also documented in the "Records of Events".[5]No 571 Sqn. Records of Events, September 1944 (AIR 27/2044)
The Bomber Command Report on Night Operations for September 11th/12th, 1944, provides the following information:
"42/47 Mosquitos bombed Berlin in clear weather. The marking and bombing were both concentrated, and several small fires were started. Fighters and ground defences were active, and 1 Mosquito was shot down by heavy flak over the capital. Another was damaged beyond repair."[6]Bomber Command Reports on Night Operations, 11/12th September 1944 (AIR 14/3412)
The "Summaries of Aircraft Damaged on Operations" lists a total of seven Mosquitos damaged that night, most of them belonging to No. 139 Sqn.[7]"Summaries of Aircraft Damaged on Operations – Dec 1942 – May 1945" (AIR 14/3460); Page 258
| | | |
| --- | --- | --- |
| 1. | ↑ | No. 139 Sqn. Records of Events, September 1944 (AIR 27/961/18) |
| 2. | ↑ | Mehner, Kurt (Hrsg.): Die geheimen Tagesberichte der Deutschen Wehrmachtführung; a.a.O; Page 28 |
| 3. | ↑ | Lorant, Jean-Yves et al.: JG 300 "Wilde Sau" – Vol. 1; a.a.O., Page 384 |
| 4. | ↑ | No. 139 Sqn. Records of Events, September 1944 (AIR/27/961) |
| 5. | ↑ | No 571 Sqn. Records of Events, September 1944 (AIR 27/2044) |
| 6. | ↑ | Bomber Command Reports on Night Operations, 11/12th September 1944 (AIR 14/3412) |
| 7. | ↑ | "Summaries of Aircraft Damaged on Operations – Dec 1942 – May 1945" (AIR 14/3460); Page 258 |