September 12th, 1944, brings the Light Night Striking Force back to Berlin, this time, however, with limited capacity: only 28 Mosquitos[1]Middlebrook, Martin et al.; The Bomber Command War Diaries; a.a.O, Page 583 lists 29 aircraft. are making it to the German capital that night.
The Secret Daily Reports are mentioning their approach route as "North of Holland to Neuruppin"[2]Mehner, Kurt (Hrsg.): Die geheimen Tagesberichte der Deutschen Wehrmachtführung; a.a.O; Page 31 which allows only for a rough mapping of the flight route. Also, there are currently no reports on damage available which makes an assessment of the bombed suburbs impossible.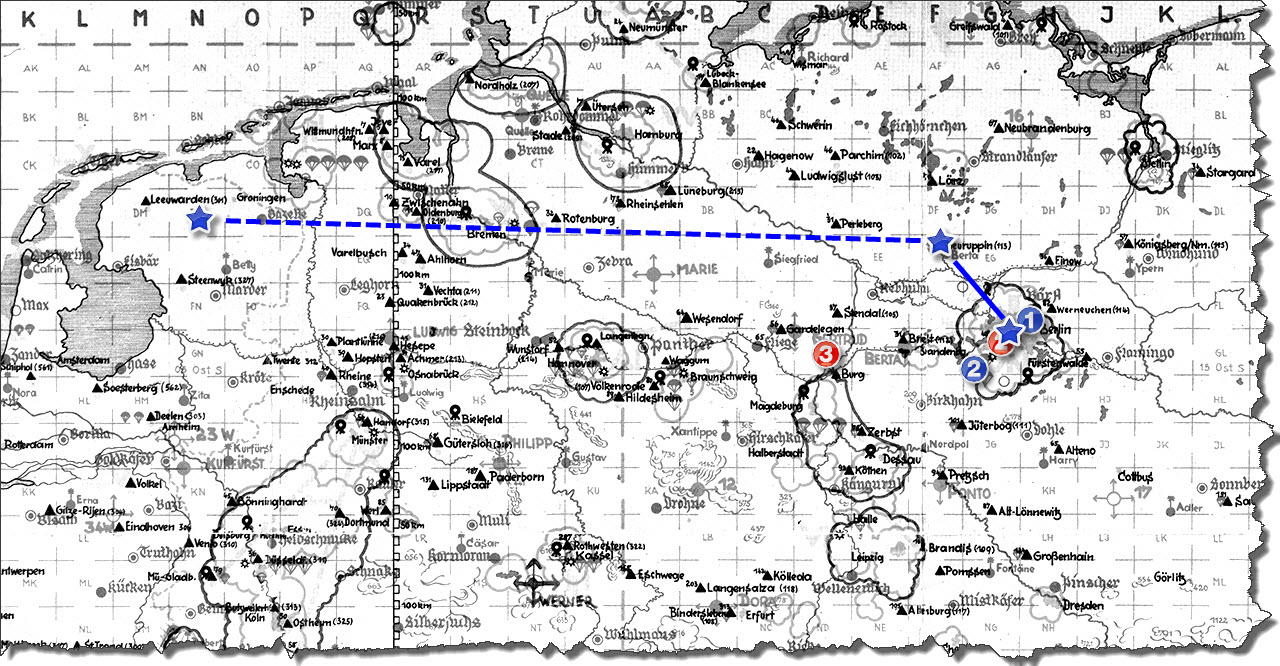 And once more, the 10./JG 300 should have been seeing action – Lt. Kurt Welter and Ofw. Baltruschat are claiming two Mosquitos each.
Kurt Welter's first claim is at 23:14 hrs ("Red 2" in the map above), the second one at 23:25 hrs ("Red 3"). The two claims by Ofw. Baltruschat are to the east ("Blue 1") and south-west ("Blue 2") of Berlin[3]Lorant, Jean-Yves et al.: JG 300 "Wilde Sau" – Vol. 1; a.a.O., Page 385.
There are no reported losses for the Bomber Command that night – the four claims are more than questionable and consequently, none of them has received an "Anerkennungsnummer" – and official recognition by the Luftwaffe.
But the Luftwaffe pilots do not go unnoticed by the Royal Air Force: one Mosquito (KB205), flown by F/L Tong and F/O Lagesse is not only damaged by flak, they also reported being attacked by a Night Fighter.
They are making it home to England – despite an open bomb bay and damaged hydraulics which requires them to lower their landing gear manually when arriving at Coltishall at 01:55 hrs.[4]No. 139 Sqn. Records of Events, September 1944 (AIR/27/961)
The crew F/O Griffiths and F/O Ball of No. 571 Sqn. is also hit by flak multiple times. On their flight back home, they are running out of fuel, both men are escaping the destruction of their aircraft, baling out of the stricken Mosquito (MM 127). Both return uninjured.[5]No 571 Sqn. Records of Events, September 1944 (AIR 27/2044)

Another crew, W/O Tomlinson and F/O Richards, are attacked by a German Night Fighter but can escape and is able to land the Mosquito (PF 394) safely back home in Woodbridge.[6]No 571 Sqn. Records of Events, September 1944 (AIR 27/2044)
Once more, a look into the Bomber Command Report on Night Operations reveals the view of the allied combat evaluation team:
"28/29 Mosquitos attacked Berlin. The capital was clear of cloud; but the marking and bombing were both scattered. Considerable opposition was met; 2 aircraft were damaged by fighters and 7 by flak. No aircraft was lost but one crash-landed because of fuel shortage and was destroyed."[7]Bomber Command Reports on Night Operations, 12/13th September 1944 (AIR 14/3412)
The "Summaries of Aircraft Damaged on Operations" lists a total of 10 Mosquitos damaged, 7 by Flak, 2 by fighters and one abandoned due to lack of fuel.[8]Summaries of Aircraft Damaged on Operations – Dec 1942 – May 1945 (AIR 14/3460); Page 263
| | | |
| --- | --- | --- |
| 1. | ↑ | Middlebrook, Martin et al.; The Bomber Command War Diaries; a.a.O, Page 583 lists 29 aircraft. |
| 2. | ↑ | Mehner, Kurt (Hrsg.): Die geheimen Tagesberichte der Deutschen Wehrmachtführung; a.a.O; Page 31 |
| 3. | ↑ | Lorant, Jean-Yves et al.: JG 300 "Wilde Sau" – Vol. 1; a.a.O., Page 385 |
| 4. | ↑ | No. 139 Sqn. Records of Events, September 1944 (AIR/27/961) |
| 5, 6. | ↑ | No 571 Sqn. Records of Events, September 1944 (AIR 27/2044) |
| 7. | ↑ | Bomber Command Reports on Night Operations, 12/13th September 1944 (AIR 14/3412) |
| 8. | ↑ | Summaries of Aircraft Damaged on Operations – Dec 1942 – May 1945 (AIR 14/3460); Page 263 |