First of all, Karl-Heinz Becker is logging two more flights on "Rote 1", the Me 262 with the Werknummer 170 051.

These flights in the late afternoon last four minutes each and cannot have been more than a quick circling of the airfield.
Earlier that day, Kommando Welter experienced a first loss of human life when Oblt. Heinz Bruckmann was killed when his Me 262 "Rote 11" (WNr. 110 610) crashed near Wittstock an der Dosse.
There are different versions of the story told – one is that Oblt. Bruckmann engaged a Mosquito over the Wittstock Moorland, south of Rechlin, and during the encounter damaged his aircraft. He is then said to have attempted an emergency landing at Wittstock an der Dossier which failed, resulting in the destruction of the aircraft and the death of the pilot[1]Smith, J. Richard et al.; Me 262 Volume 3; a.a.O., Page 453
Another story is the following: Oblt. Bruckmann was set up to engage an enemy reconnaissance aircraft and took off from Rechlin-Lärz in the afternoon. About 15 minutes into the flight, he calls in via radio, reporting his trimming wheel is "running through" which results in the Me 262 going into a steep dive. All his attempts to recover from this situation are in vain and his desperate radio calls "Helft mit, bitte helft mir!"[2]engl.: "help me, please help me!" only cease when his aircraft impacts the ground. Very little was found from the aircraft and the Flugzeugführer.[3]via Communication Manfred Boehme
Oblt. Heinz Bruckmann dies, 32 years old, and is today buried at the cemetery at Wittstock an der Dosse.

But the story with intercepting an inbound reconnaissance aircraft is not totally "off" – a possible target could have been Mosquito NS509, a Mosquito XVI of USAAF 25th Bombardment Group, flown by 2nd Lt. Jerry M. Robert and 1st Lt. Ralph E. Fisher.

According to the documentation, the aircraft was on a weather reconnaissance mission into central Germany. Leaving her base in Watton (AAF Station 376) at 14:22 hrs, she takes a north-easterly course that follows the waypoints 54°50'N, 08°40'E – 55°00'N, 12°00'E, and the destination 51°30'N, 12°00'E. Most likely, from there, she would have taken the direct route home to her base in Watton, a total distance of about 2.000 kilometers.
Attached to the Missing Air Crew Report[4]MACR 11912 are translated German documents that suggest she was lost at 16:00 hrs. at Emkendorf near Lüjenburg. The document states "10 km south of Lütjenburg", more likely "6 km northwest of Lütjenburg" would have been correct. The reason for the loss is given as "Shot down by fighter".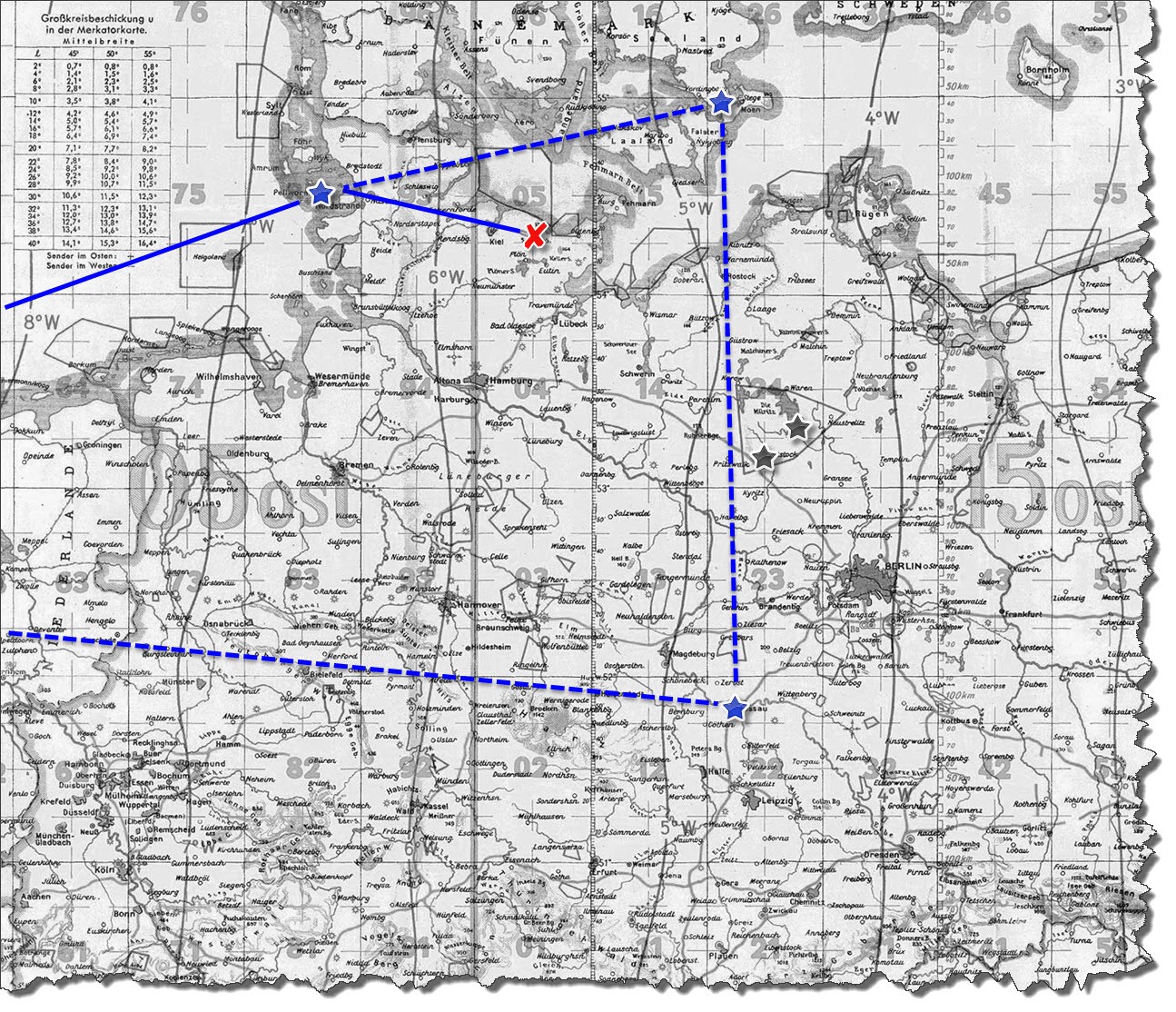 Looking at the map above, two things become obvious: her course would have taken her straight through Kommando Welter's hunting grounds… but she never made it that far! The loss of this Mosquito has been discussed extensively[5]http://aviation-safety.net/wikibase/wiki.php?id=165524 – the pilot remembers being shot down by own P-51 "yellow-belly" Mustangs, another source[6]reference missing names a Messerschmitt Bf 109 as opponent.
There is no documented claim of a Mosquito by any Luftwaffe pilot that I am aware off – not for that date. But given that it was late in the war, that does not necessarily have to say much… so is NS509 the Mosquito Oblt. Bruckmann was sent up against? Possible – but it is also safe to assume that he is not responsible for it's destruction – his trouble with his own aircraft developed right after take-off and he was in no position to engage the enemy aircraft.
With respect to P-51 in the area, it is documented that 6 armed P-51 were on a reconnaissance mission to Pölitz near Stettin[7]Freeman, Roger A.: The Mighty Eighth War Diary, Page 427 but these fighters of 358th Fighter Squadron already reached their destination at 13:25 hrs – and they were jumped on by a pair of Me 262's over the Steinhuder Meer, near Hannover – a documented encounter that suggests that this flight neither time-wise nor location-wise can be linked to the loss of NS509.
So whatever happened that day – it will be hard to reconstruct. Fact remains that at the end of the day, one Mosquito and one Me 262 of Kommando Welter were no more, killing two of the three airmen and sending the third one into a PoW-Camp.
| | | |
| --- | --- | --- |
| 1. | ↑ | Smith, J. Richard et al.; Me 262 Volume 3; a.a.O., Page 453 |
| 2. | ↑ | engl.: "help me, please help me!" |
| 3. | ↑ | via Communication Manfred Boehme |
| 4. | ↑ | MACR 11912 |
| 5. | ↑ | http://aviation-safety.net/wikibase/wiki.php?id=165524 |
| 6. | ↑ | reference missing |
| 7. | ↑ | Freeman, Roger A.: The Mighty Eighth War Diary, Page 427 |