On September 13th, 1944, Kurt Welter is claiming a victory at 17:42 hrs in 15 Ost S/EC-4[1]Lorant, Jean-Yves et al.: JG 300 "Wilde Sau" – Vol. 1; a.a.O., Page 385.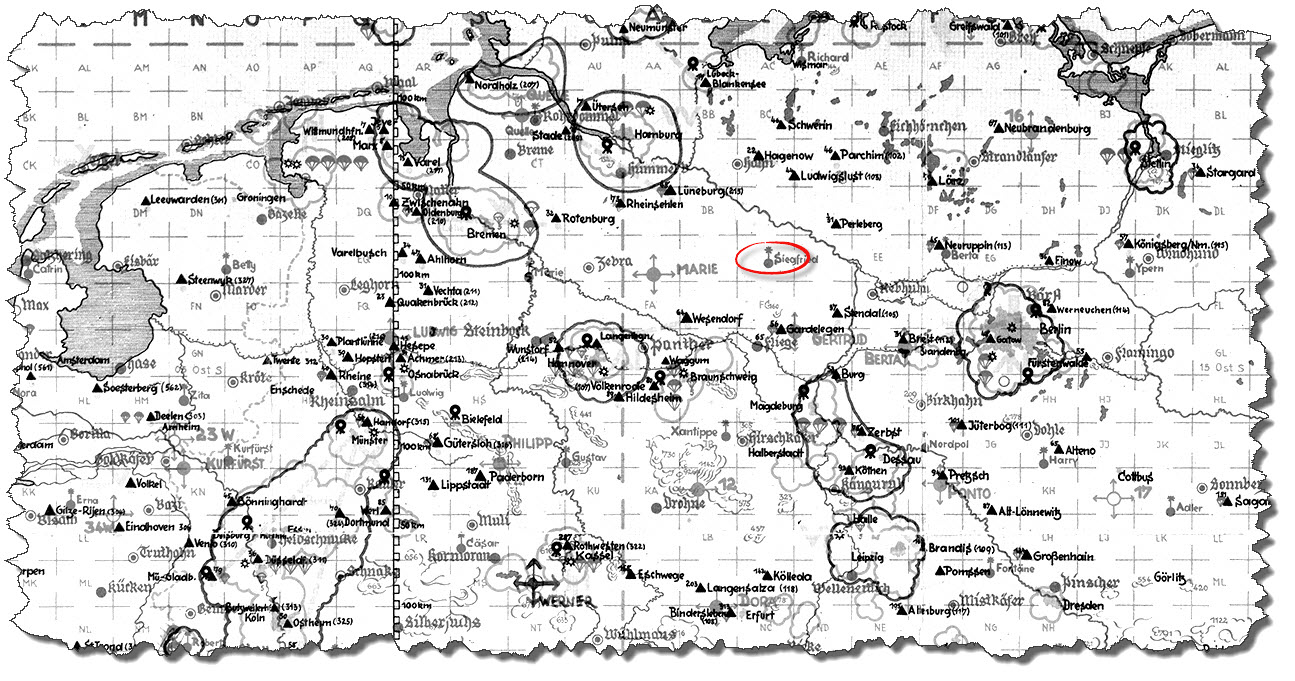 At this time of the day and year, this would account as a "daylight victory", possibly a reconnaissance aircraft. It appears that the claim has not been acknowledged – the lists bear the remark "VNE:ASM"[2]VNE:ASM: the most likely translation is 'Vernichtung nicht erwiesen:Anerkennung später möglich' which means 'Destruction not proven,  later acknowledgment possible – which at least casts some doubts on this success.
Possibly, this claim is related to the fate of Mosquito MM280 on a reconnaissance flight into the Wittenberg – Stendal area. The aircraft had taken of from the forward airfield in Amiens-Glisy (B.48) where the unit had moved to September 9th, 1944. [3]http://www.jshawmsc.f2s.com/140squadron.pdf
The crew possibly has trouble with one of the engines or the engine was damaged by an initial attack of two Messerschmitt Bf 109 fighters. The pilots manage to evade subsequent attacks by the fighters which eventually have to call off the fight, possibly due to lack of ammunition.
They continue to fly feint attacks and one of the Bf 109 possibly gets involved into a mid-air collision, ramming the wing of the Mosquito. There is a possibility that the Messerschmitt is also lost – the Mosquito manages to return to Amiens-Glisy[4]Alternatively, a landing at the Brussles-Melsbroek airfield is mentioned. However, the unit only relocates to this airfield end of September. The Records of Events show not mentioning of a landing in any location other than Amiens-Glisy. They do show the time of the crash-landing, however, which indicates that the aircraft in fact did reach Amiens-Glisy where the crew manages a crash-landing at the airfield around 19:30 hrs.

During the night, Berlin is on the target list for the Light Night Striking Force again. 36 Mosquitos are reaching their target on a route that takes them from the British Isles over the German Beight to Neumünster, then to Schwerin and finally to Berlin[5]Mehner, Kurt (Hrsg.): Die geheimen Tagesberichte der Deutschen Wehrmachtführung; a.a.O; Page 34.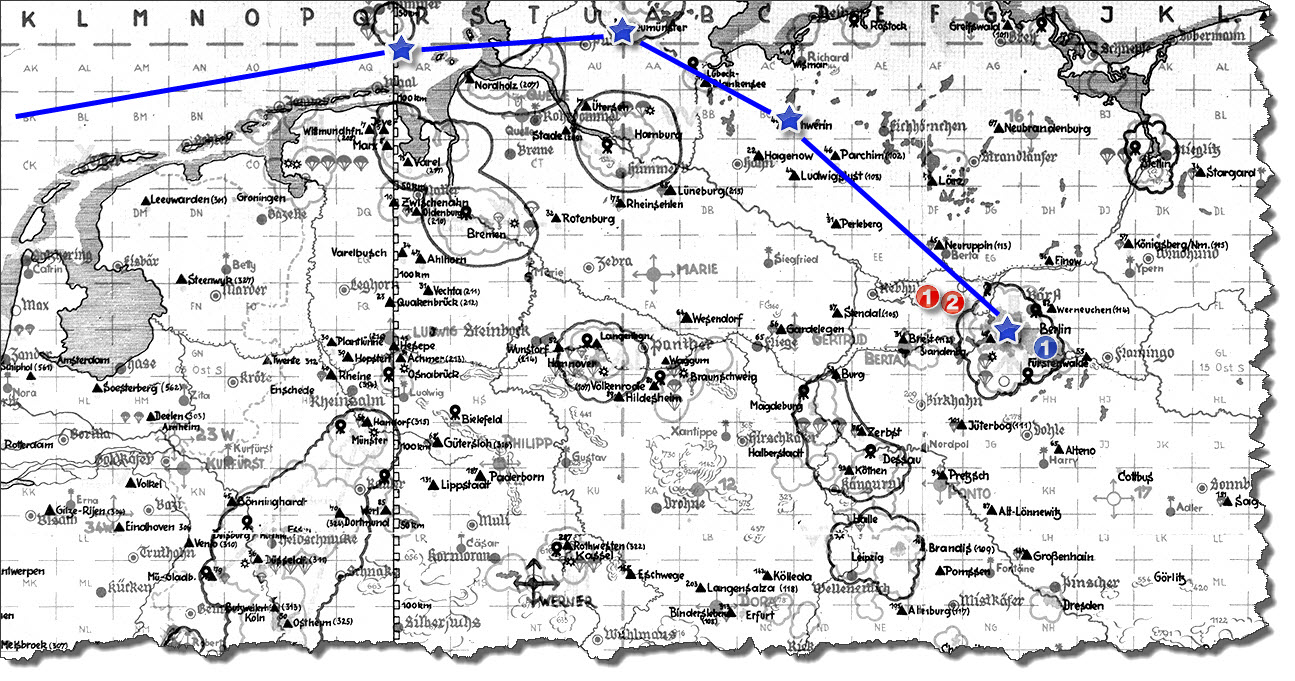 And once again, they are facing their German adversaries from 10./JG 300. Two victory claims are made that night[6]Foreman, John et al.: Luftwaffe Night Fighter Combat Claims; a.a.O., Page 216., one at 23:00 hrs by Ofw. Egbert Jaacks south-east of the city, one at 23:15 hrs by Lt. Karl Mitterdorfer – the location provided by John Foreman most likely is not accurate though[7]Foreman, John et al.: Luftwaffe Night Fighter Combat Claims; a.a.O., Page 216.: The location provided is "Braunschweig", more likely is a location further east, near the city of Nauen..
Karl Mitterdorfer gives an account in this mission in Jean-Yves Lorant's Buch "Jagdgeschwader 300 – Wilde Sau"[8]Lorant, Jean-Yves et al.: JG 300 "Wilde Sau" – Vol. 1; a.a.O., Page 325 f.: he recalls attacking a first Mosquito but he was unable to observe the results of his attack, partially because he quickly engages a second one of the fast bombers, this time he is assuming that he was able to bring the "Mossie" down.
Both losses are very close together, in the area of the city of Nauen ("Red 1" and "Red 2" in the map). Ofw. Jaacks claims his victory south-east of Berlin ("Blue 1" in the map). It seems possible to attribute the two losses near Nauen to Karl Mitterdorfer. The Bomber Command loss lists are providing the details on the two aircraft:


The two losses are recognized by several crews of No. 571 Sqn. and their observations are noted in the "Records of Events":[9]No. 571 Sqn. Records of Events, September 1944 (AIR 27/2044)
the crew F/L Moody and F/S Green are observing the loss of an aircraft at 23:19 hrs.
the crew S/L Greenlead and P/O Rendell are reporting a loss at 23:15 hrs.
the crew F/O Hopper and F/O Davidson are seeing an aircraft going down at 23:12 hrs.
the crew W/O Hemming and F/O Diamond are observing a loss at 23:03 hrs.
All crews are reporting an intense use of search lights and a moderate use of the flak – a clear sign that German Night Fighters were in the area and the ground crews tried to find and illuminate targets for them without putting them in harms way by an intensive use of flak.
The Bomber Command Report on Night Operations for September 13th/14th, 1944 is only brief – regarding the attack on Berlin, the following is noted:
"Berlin: 36/35 Mosquitos bombed Berlin in clear weather. The marking and bombing were both concentrated. 2 aircraft did not return."
"Enemy Defences: Fighters were active over Berlin, although no returning aircraft was attacked. Searchlights operated freely, but the flak was moderate."
"Casualties: 2 Mosquitos were lost over Berlin, both while coned by searchlights. One was certainly, and the other probably lost to heavy flak. 4 other Mosquitos were hit by flak, but none seriously."[10]Bomber Command Reports on Night Operations, 13/14th September 1944 (AIR 14/3412)
In addition, the Summaries of Aircraft Damaged on Operations notes 4 aircraft damaged by flak that night.
| | | |
| --- | --- | --- |
| 1. | ↑ | Lorant, Jean-Yves et al.: JG 300 "Wilde Sau" – Vol. 1; a.a.O., Page 385 |
| 2. | ↑ | VNE:ASM: the most likely translation is 'Vernichtung nicht erwiesen:Anerkennung später möglich' which means 'Destruction not proven,  later acknowledgment possible |
| 3. | ↑ | http://www.jshawmsc.f2s.com/140squadron.pdf |
| 4. | ↑ | Alternatively, a landing at the Brussles-Melsbroek airfield is mentioned. However, the unit only relocates to this airfield end of September. The Records of Events show not mentioning of a landing in any location other than Amiens-Glisy. They do show the time of the crash-landing, however, which indicates that the aircraft in fact did reach Amiens-Glisy |
| 5. | ↑ | Mehner, Kurt (Hrsg.): Die geheimen Tagesberichte der Deutschen Wehrmachtführung; a.a.O; Page 34 |
| 6. | ↑ | Foreman, John et al.: Luftwaffe Night Fighter Combat Claims; a.a.O., Page 216. |
| 7. | ↑ | Foreman, John et al.: Luftwaffe Night Fighter Combat Claims; a.a.O., Page 216.: The location provided is "Braunschweig", more likely is a location further east, near the city of Nauen. |
| 8. | ↑ | Lorant, Jean-Yves et al.: JG 300 "Wilde Sau" – Vol. 1; a.a.O., Page 325 f. |
| 9. | ↑ | No. 571 Sqn. Records of Events, September 1944 (AIR 27/2044) |
| 10. | ↑ | Bomber Command Reports on Night Operations, 13/14th September 1944 (AIR 14/3412) |