Once more, the Royal Air Force attacks Berlin in the night of March 2nd, 1945, to March 3rd – the raid is flown in two waves. The first wave consists of 18 Mosquitos, the second wave of another 4 – all in all, 22 Mosquitos over Berlin that night[1]AIR 14/3412, Page 633.
The Luftwaffe's Morning Report suggests that the Berlin-bound Mosquito force was "about 40 aircraft" and gives the route as "along the Frisian Islands, to Cuxhaven, Lüneburg, and Wittenberg to Berlin".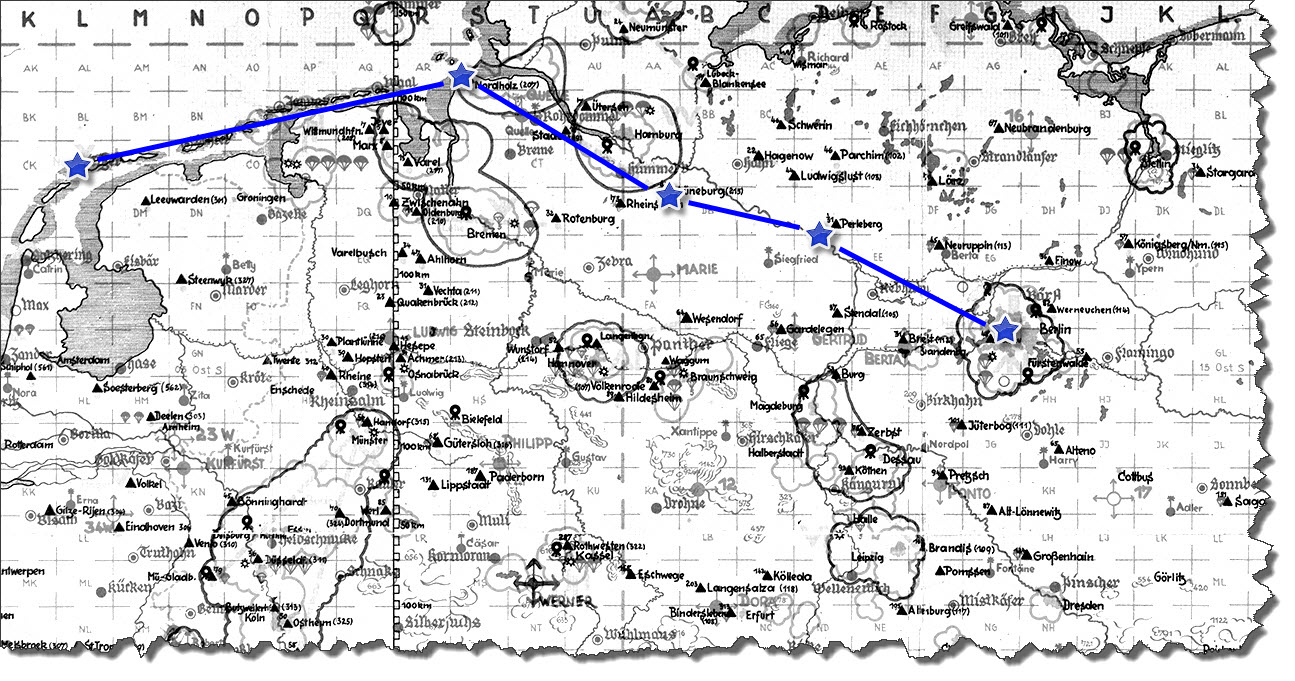 The Messerschmitt Me 262 of 10./NJG 11 are also airborne, likely to counter the raid. It is once more the Morning Report of the Luftwaffe that mentions a single "Bf 262″[2]Mehner, Kurt (Hrsg.): Die geheimen Tagesberichte der Deutschen Wehrmachtführung; Page 239 – other sources are suggesting up to five aircraft[3]Smith, J. Richard et al.; Me 262 Volume 3; Page 461,[4]Note: it is possible that the event described by Richard Smith and Eddie Creek in fact is the flight that happened about one month later, in early April 1945. This would also fit with their account of one Mosquito downed and one Me 262 missing.. The Morning Report, however, also includes the stated result of the combat action: "2 for sure, 1 probable".
Possibly based upon this Morning Report, John Foreman lists three claims for Kurt Welter for the night[5]Foreman, John et al.: Luftwaffe Night Fighter Combat Claims; Page 238. And it possibly was Kurt Welter flying the lone Messerschmitt Me 262, as the Morning Report suggests: there is no entry in Karl-Heinz Beckers Flight Log, Lt. Kurt Lamm and Lt. Herbert Altner almost certainly were not put on nocturnal missions yet, they just had been transferred to the unit.
Looking at the RAF side of things, all of their aircraft are returning safely but one of their Mosquitos, KB268 of No. 139 Sqn., is damaged so badly over the target that it has to be written off. The damage assessed and documented in the official documentation is given as "1e"[6]Summaries of Aircraft Damaged on Operations – Dec 1942 – May 1945 (AIR 14/3460); Page 408 which corresponds to one hit by a 30mm shell – possibly fired through the Mk 108 Cannons of a Messerschmitt Me 262. Unfortunately, the Records of Events for No. 139 Sqn. only shows that KB268, flown by F/O Coleman and F/LT Cooper, was part of the first wave and "sustained considerable damage"[7]AIR 27/961 – but no indication as to encounters with night fighters.
What remains is a possible combat of a Messerschmitt Me 262 with Mosquito KB268 – the aircraft, however, was not shot down but managed to return to England (although it had to be written off in the end).
In addition, the mentioned Summaries of Aircraft Damaged on Operations report lists a second damaged Mosquito – KB436 – but this aircraft was on a mission to Kassel[8]AIR 27/976 and therefore could be ruled out as damaged over Berlin.
| | | |
| --- | --- | --- |
| 1. | ↑ | AIR 14/3412, Page 633 |
| 2. | ↑ | Mehner, Kurt (Hrsg.): Die geheimen Tagesberichte der Deutschen Wehrmachtführung; Page 239 |
| 3. | ↑ | Smith, J. Richard et al.; Me 262 Volume 3; Page 461 |
| 4. | ↑ | Note: it is possible that the event described by Richard Smith and Eddie Creek in fact is the flight that happened about one month later, in early April 1945. This would also fit with their account of one Mosquito downed and one Me 262 missing. |
| 5. | ↑ | Foreman, John et al.: Luftwaffe Night Fighter Combat Claims; Page 238 |
| 6. | ↑ | Summaries of Aircraft Damaged on Operations – Dec 1942 – May 1945 (AIR 14/3460); Page 408 |
| 7. | ↑ | AIR 27/961 |
| 8. | ↑ | AIR 27/976 |