March 3rd, 1945, sees the next loss in material and human life with 10./NJG 11: Ofw. Gustav Weibl fails to return from a training mission and is listed as missing. The loss is recorded in the Generalquartiermeister's Loss Lists[1]Genst. Gen. Qu. 6 Abt, Nr. 450/45:

The British radio intelligence units also noted the loss – one of the few ULTRA Decrypts is providing the following details:
"From 10./NJG 11 – BURG dated 18/3: Missing Report. Me 262 A1 Wks. No. 110652, pilot Obfw. WIEBLICH, GUSTAV, recognition mark SCH G.A.F. Training Regt. 63 No. 29, missing since 3/3. Flying task: test flight general area BURG, BRANDENBURG, MAGDEBURG, HALBERSTADT, STENDAL, HALLE."[2]HW 5-685, CX-MSS-R.506 C-27
Gustav Weibl an his aircraft remained missing – even in post-war account, Karl-Heinz Becker has been unable to shed light on the event:
"[talking about his experience with inaccurate positions by the ILO during his encounter February 15, 1945] This way, we lost our Fw. Weibl during a test f light. He was flying in the Burg area when he was descending through a layer of clouds and from that point onward, he was missing and remained so until this very day – they never found him and his aircraft.
We went to Döberitz, to "Horizon", where we tried to re-evaluate all known measured positions and speeds and tried to come up with the actual location where he descended through the clouds. Our results showed that he must have been way outside the area of Burg, close to the Harz mountains, when he crashed."[3]Personal account by Karl-Heinz Becker, provided by Manfred Boehme.
But even that account is not correct: the Volksbund Deutsche Kriegsgräberfürsorge lists him as buried at the Geseke Cemetary, not far from the city of Paderborn. It appears that his aircraft, when descending through the clouds, collided with a barn and crashed. Unfortunately, his Erkennungsmarke[4]engl.: Recognition Badge was not identified but buried with him as "unknown jet pilot". Only in 1967, when the grave was re-opened, it was possible to identify the remains and inform the family[5]see http://www.xn--fliegerhorst-strmede-ibc.de/40383.html.

The night then sees the next attack of the Royal Air Force with 64 Mosquitos of the Light Night Striking Force attacking Berlin. Their approach this time was via Meppen, Osnabrück, Hannover, and Stendal to Berlin.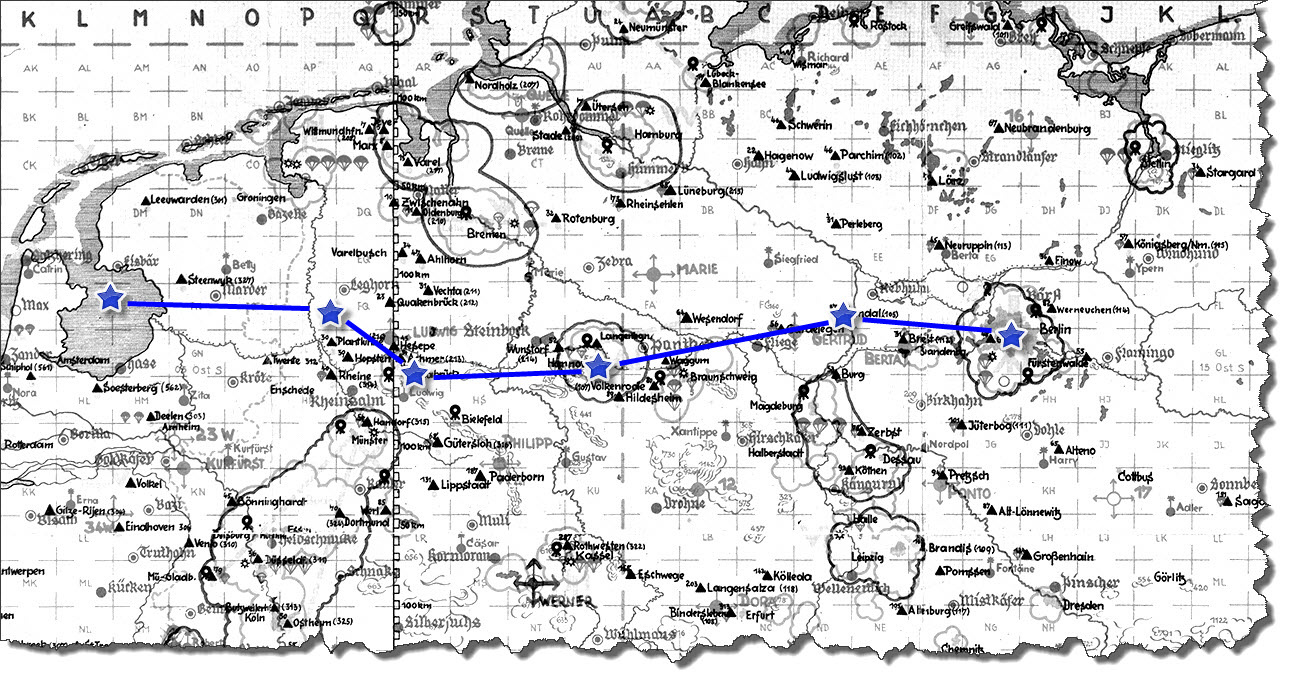 It appears that a single Messerschmitt Me 262 of 10./NJG 11 was hunting them – the Morning Report of the Luftwaffe indicates "Against Mosquitos to Berlin: 1. Jagddivision, 1 Me 262"[6]Mehner, Kurt (Hrsg.): Die geheimen Tagesberichte der Deutschen Wehrmachtführung; Page 243
| | | |
| --- | --- | --- |
| 1. | ↑ | Genst. Gen. Qu. 6 Abt, Nr. 450/45 |
| 2. | ↑ | HW 5-685, CX-MSS-R.506 C-27 |
| 3. | ↑ | Personal account by Karl-Heinz Becker, provided by Manfred Boehme |
| 4. | ↑ | engl.: Recognition Badge |
| 5. | ↑ | see http://www.xn--fliegerhorst-strmede-ibc.de/40383.html |
| 6. | ↑ | Mehner, Kurt (Hrsg.): Die geheimen Tagesberichte der Deutschen Wehrmachtführung; Page 243 |