On March 12th, 1945, Karl-Heinz Becker records a "Test flight" with a Messerschmitt Me 262 coded "Rote 2".

This flight – from 18:11 hrs to 18:26 hrs. for a total of 15 minutes, must have been on a newly delivered jet – the original "Rote 2" was lost on February 17th, 1945 (see here), when Walter Böckstiegel crashed, killing the pilot and destroying the aircraft.
Also recorded in the lists of the Generalquartiermeister[1]Genst. Gen. Qu. 6 Abt, Nr. 450/45 is a damage of 30% to one of the units jets, Werknummer 111 916.

The record does not mention the name of the pilot – he was not injured but gives the reason: "Error handling the aircraft when landing". Some sources say, the pilot was Herbert Altner[2]Note: reference missing, others say it was Jörg Czypionka[3]O'Connell, Dan: Me 262 Production Log, Page 142. The aircraft's code is not recorded but the GQM Record associates the Werknummer 111 916 with 10./NJG 11.

Like the days before, the Light Night Striking Force is back over Berlin once dark falls over Germany. 81 Mosquitos are approaching "the big city" via northern Holland – Emden – Nienburg/Weser – Hannover – Salzwedel.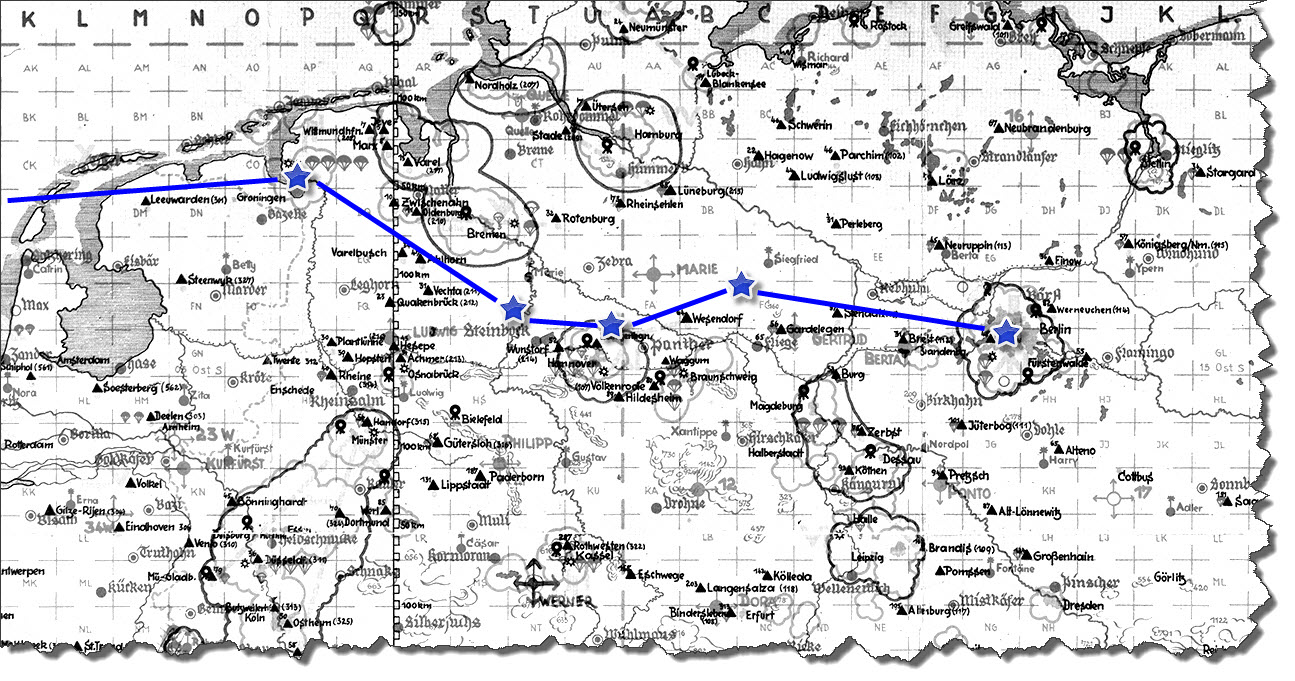 And once more, it appears that there had not been a mission for 10./NJG 11 to intercept them this night. All of the Mosquitos are returning home safely.
| | | |
| --- | --- | --- |
| 1. | ↑ | Genst. Gen. Qu. 6 Abt, Nr. 450/45 |
| 2. | ↑ | Note: reference missing |
| 3. | ↑ | O'Connell, Dan: Me 262 Production Log, Page 142 |