On March 17th, 1945, to March 18th, the Royal Air Force is attacking Berlin with a force of 38 Mosquitos – this night, there is a break for the "heavies", none of the Lancaster and Halifax bombers are in the skies over Germany[1]Middlebrook, Martin et al.; The Bomber Command War Diaries; Page 682.
The Mosquitos are approaching Berlin along their regular route from the Frisian Islands to Emden – Bremen – Ülzen – Stendal and to Berlin.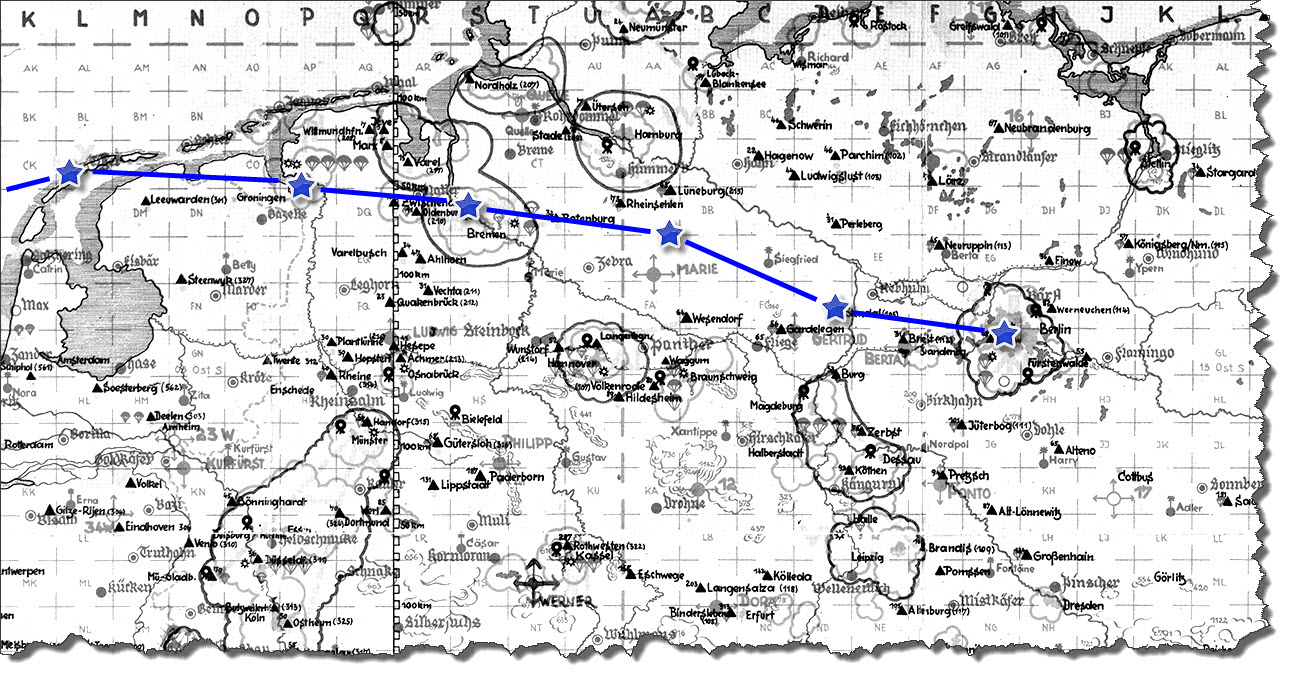 There is a possibility that 10./NJG 11 operated against the Mosquitos this night: a probably incorrectlysection "Eigener Eisatz"[2]engl.: Own Operations which is located among the damage reports for March 17th, 1945, probably is in fact a Morgenmeldung des Luftwaffenführungsstabs Ic of March 18th, 1945:
"Against Mosquitos to Berlin: 1. J. Div.: 3 Me 262 (Kdo Welter). Losses: p: 0-1-0, m:1-0-0"[3]Mehner, Kurt (Hrsg.): Die geheimen Tagesberichte der Deutschen Wehrmachtführung; Page 291
If in fact March 18th, 1945, is the correct "placement" of this report, it would suggest a so far only vaguely covered loss for Kommando Welter when Uffz. Hans Lamprecht crashed during a nocturnal mission, destroying the aircraft and wounding the pilot[4]Note: The exact circumstances of the loss are not documented, the details are taken from a personal communication between Manfred Boehme and Otto Eicher which Manfred Boehme was kind enough to share with me..

On the RAF side of things, to Mosquitos with the target Berlin are lost but none of them over Germany: MM219 returns to base early and is destroyed in an attempted emergency landing. KB455 is suffering an engine failure during take-off and is damaged beyond repair.


| | | |
| --- | --- | --- |
| 1. | ↑ | Middlebrook, Martin et al.; The Bomber Command War Diaries; Page 682 |
| 2. | ↑ | engl.: Own Operations |
| 3. | ↑ | Mehner, Kurt (Hrsg.): Die geheimen Tagesberichte der Deutschen Wehrmachtführung; Page 291 |
| 4. | ↑ | Note: The exact circumstances of the loss are not documented, the details are taken from a personal communication between Manfred Boehme and Otto Eicher which Manfred Boehme was kind enough to share with me. |