On or around March 20th, 1945, Lt. Jörg Czypionka joins 10./NJG 11 according to his own account[1]see his account here.  According to his Flight Log, Herbert Altner is taking turns on a Me 262 around Burg as well – at least as much as we can tell from the surviving copies.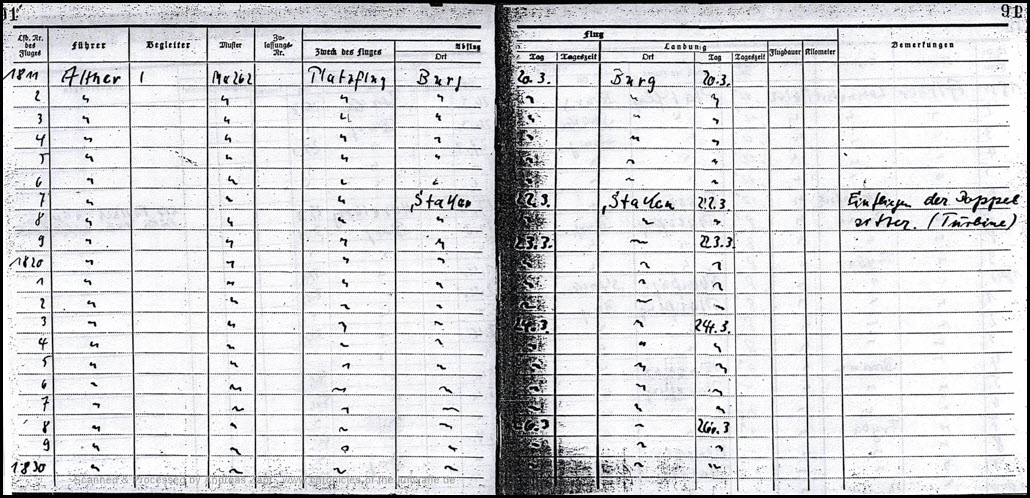 Karl-Heinz Becker's flight log also shows flying time – he is taking "Rote 2"[2]engl.: Red 2 on a Werkflug[3]engl.: Verification flight, the aircraft will  be "his" until the end of the war.

The evening hours see another attack on Berlin – the Royal Air Force sends a total of 38 Mosquitos[4]Middlebrook, Martin et al.; The Bomber Command War Diaries; Page 684 on a route from the Zuider Zee to Vechta – Hannover – Braunschweig and Berlin.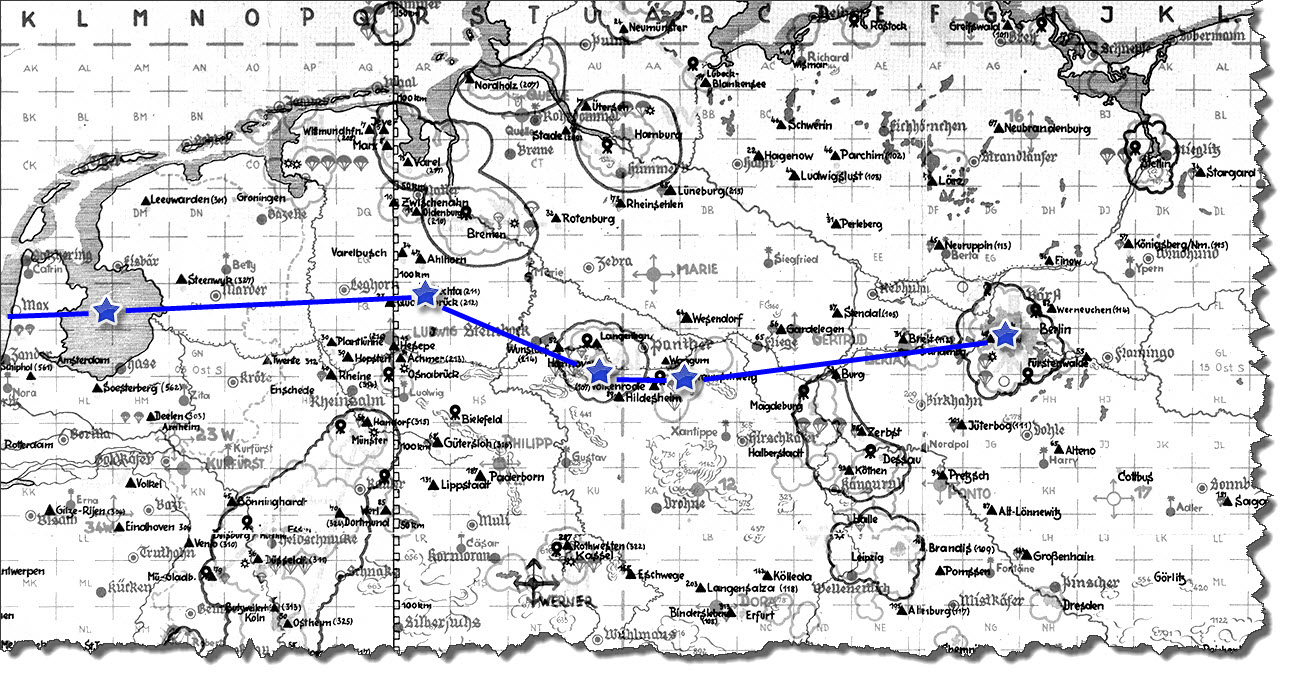 From 21:04 hrs. to 21:46 hrs., Karl-Heinz Becker is on his second combat flight with the jet – he must have been one of three aircraft chasing the quick twin-engine bombers: the Morgenmeldung of the Luftwaffeführungsstab Ic for March 21st, 1945, details:
"Against Mosquito Raid Berlin: 1. J. Div.: 3 Me 262 Mosquito hunting. No sucesses, no losses."[5]Mehner, Kurt (Hrsg.): Die geheimen Tagesberichte der Deutschen Wehrmachtführung; Page 304
The British crews of No. 139 Sqn. also mention the sighting of at least one Night Fighter in the Berlin area – but no details are given as to the fighter being recognized as a jet aircraft[6]The National Archives, AIR 27/961/30
| | | |
| --- | --- | --- |
| 1. | ↑ | see his account here |
| 2. | ↑ | engl.: Red 2 |
| 3. | ↑ | engl.: Verification flight |
| 4. | ↑ | Middlebrook, Martin et al.; The Bomber Command War Diaries; Page 684 |
| 5. | ↑ | Mehner, Kurt (Hrsg.): Die geheimen Tagesberichte der Deutschen Wehrmachtführung; Page 304 |
| 6. | ↑ | The National Archives, AIR 27/961/30 |