On March 22nd, 1945, Herbert Altner recalls flying to Berlin-Staaken in a Messerschmit Bf 110[1]Note: this flight is not documented in his flight log!  and taking over the first of the Messerschmitt Me 262 B-1a/U1 interim Night Fighters[2]Smith, J. Richard et al.; Me 262 Volume 3; Page 461. The new jet will receive the official unit designation "Rote 12"[3]engl.: Red 12 – her Werknummer is 110 636 [4]Note: this jet is not "Rote 12" that is later surrendered in Schleswig but the jet that Herbert Altner will crash with on March 27th, 1945.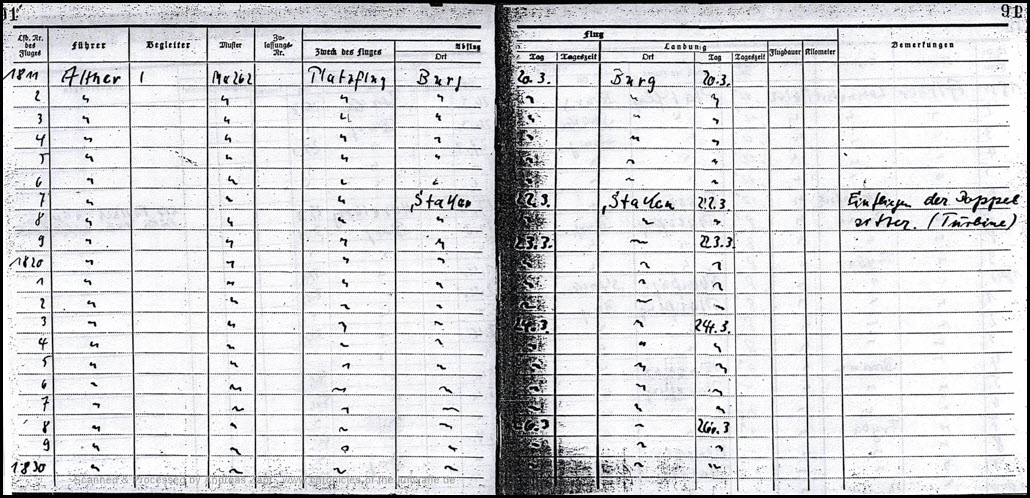 56 Mosquitos of the Light Night Striking Force are inbound to Berlin[5]Middlebrook, Martin et al.; The Bomber Command War Diaries; Page 686, their route this time takes them to the Zuider Zee, then on to Nordhorn – Minden – Hannover – Braunschweig – Magdeburg – Jüterbog and Berlin[6]Mehner, Kurt (Hrsg.): Die geheimen Tagesberichte der Deutschen Wehrmachtführung; Page 314.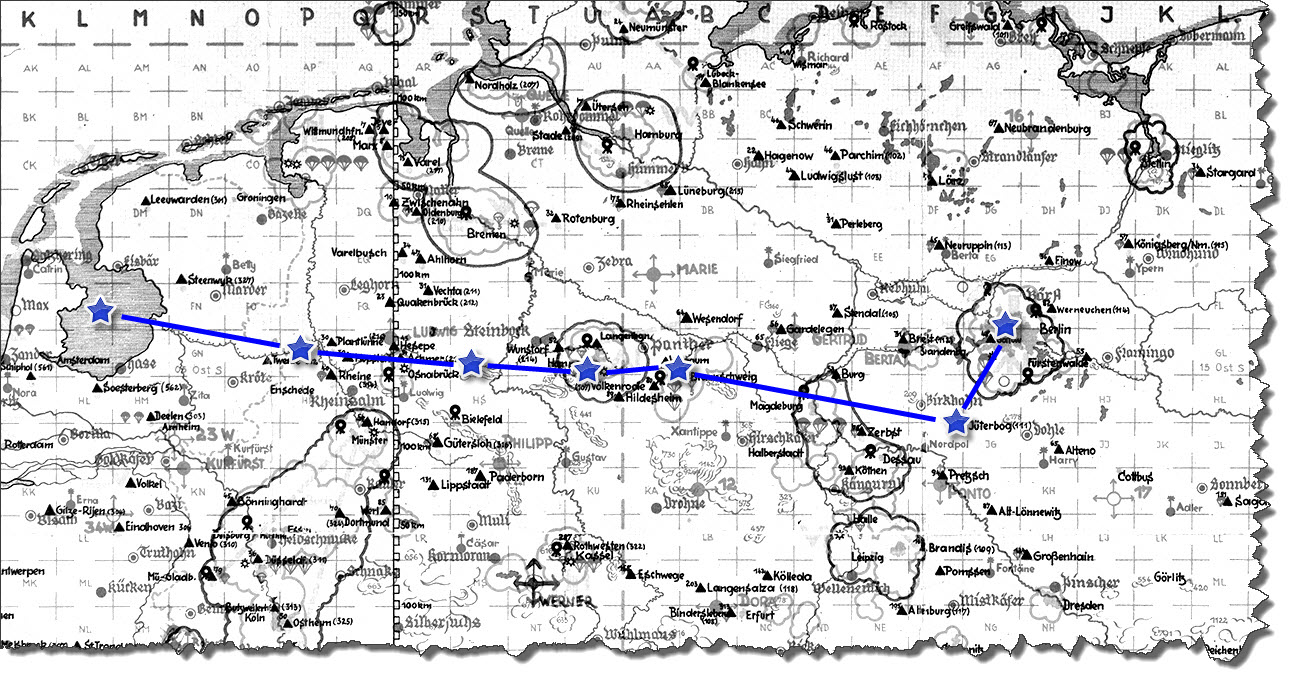 The fast bombers are reaching the German capital around 23:37 hrs., their attack lasts till 23:55 hrs. Karl-Heinz Becker's flight logs shows that 10./NJG 11 was on a nocturnal mission – his take-off time is 23:00 hrs., returning to Burg near Magdeburg just briefly after midnight at 00:04 hrs.

This flight is his 4th combat mission on the jet – this time, no successes can be reported. This is confirmed by a morning report of the Luftwaffe Führungsstab Ic for March 23rd, 1945, which states:
"Against Mosquito raid on Berlin: 1. J. Div.: 3 Me 262 (Kdo. Welter), 2. J. Div.: 2 a/c Mosquito hunting. No successes, no losses."[7]Mehner, Kurt (Hrsg.): Die geheimen Tagesberichte der Deutschen Wehrmachtführung; Page 314
Theo Boiten and Roderick Mackenzie are shedding light on the flights of the 2. Jagddivision: Gottfried Schneider is said to have been engaged in one of the few nocturnal missions flown with the German Tank Ta 154 "Moskito" Night Fighter – the second flight is unidentified[8]Boiten, Theo and Mackenzie, Roderick: Nachtjagd War Diaries – Volume 2; Page 342.
| | | |
| --- | --- | --- |
| 1. | ↑ | Note: this flight is not documented in his flight log! |
| 2. | ↑ | Smith, J. Richard et al.; Me 262 Volume 3; Page 461 |
| 3. | ↑ | engl.: Red 12 |
| 4. | ↑ | Note: this jet is not "Rote 12" that is later surrendered in Schleswig but the jet that Herbert Altner will crash with on March 27th, 1945 |
| 5. | ↑ | Middlebrook, Martin et al.; The Bomber Command War Diaries; Page 686 |
| 6, 7. | ↑ | Mehner, Kurt (Hrsg.): Die geheimen Tagesberichte der Deutschen Wehrmachtführung; Page 314 |
| 8. | ↑ | Boiten, Theo and Mackenzie, Roderick: Nachtjagd War Diaries – Volume 2; Page 342 |