On March 24th, 1945, 10./NJG 11 is set up against daylight reconnaissance patrols – Karl-Heinz  Becker records one flight, leaving Burg near Magdeburg at 12:39 hrs., returning at 13:35 hrs.

The day is covered with inconclusive results in the evening report of the Luftwaffefürhungsstab Ic:
"Against reconnaissance aircraft over north-west Germany: 2. J. Div.: 2 Me 262 (JG 11). No sucesses, no losses."[1]Mehner, Kurt (Hrsg.): Die geheimen Tagesberichte der Deutschen Wehrmachtführung; Page 319
Jagdgeschwader 11 (JG 11) was not equipped with Messerschmitt Me 262 – a potential error in the records? If so, it could have read "NJG 11" and then it could have referred to 10./NJG 11. However, this unit was subordinate to 1. Jagddivision, not 2. Jagddivision.
While Becker is on his mission, Herbert Altner continues to fly the twin-seater Me 262 B-1a/U1 in Berlin-Staaken, another four short flights around the airfield are logged.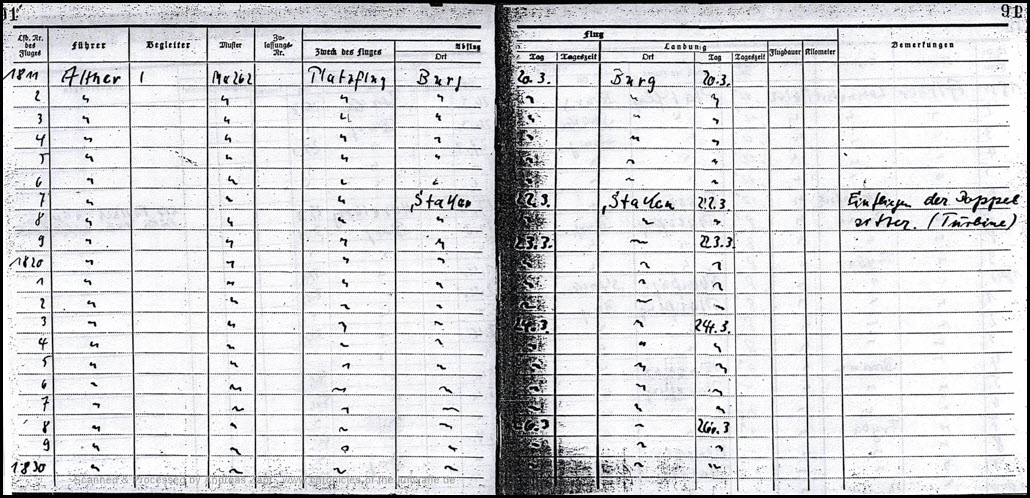 In the evening, the Royal Air Force is sending 67 Mosquitos to Berlin[2]Middlebrook, Martin et al.; The Bomber Command War Diaries; Page 688, their route this time: via the Zuider Zee to Meppen – Vechta – Celle – Gardelegen – Brandenburg and to Berlin[3]Mehner, Kurt (Hrsg.): Die geheimen Tagesberichte der Deutschen Wehrmachtführung; Page 323.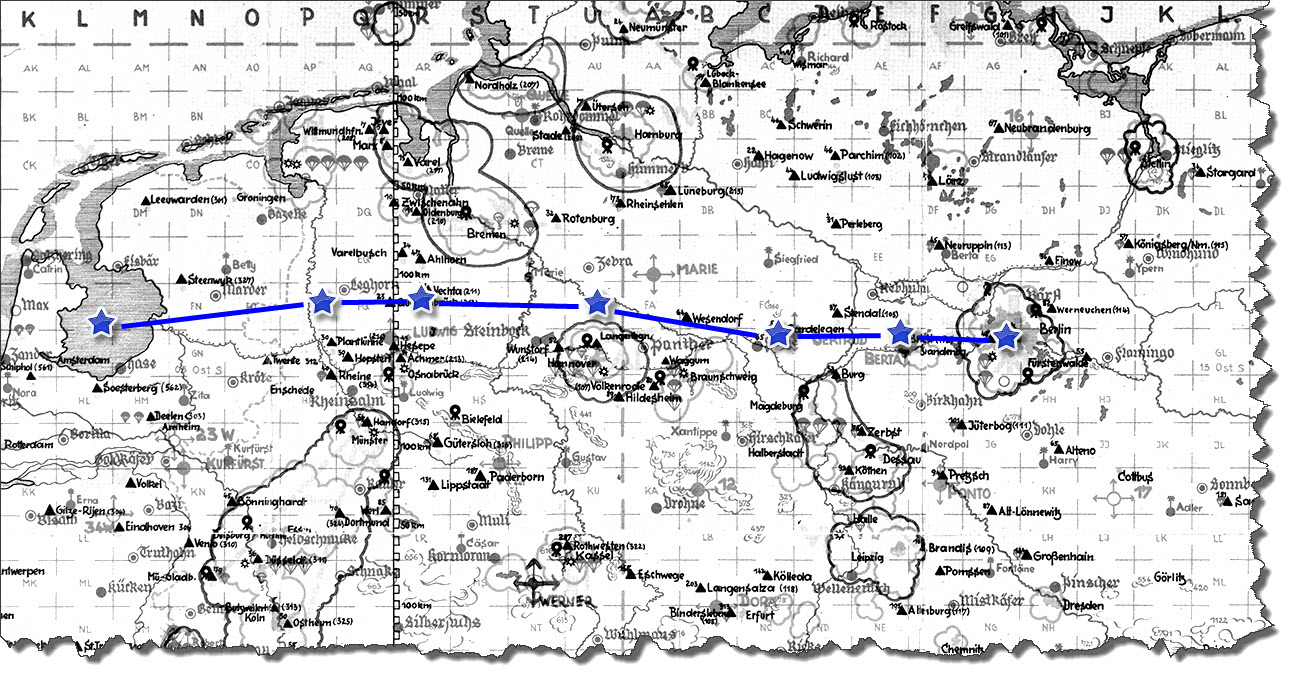 The Mosquitos are reaching Berlin around 21:16 hrs., the attack continues to 21:24 hrs. According to the Morgenmeldung of the Luftwaffeführungsstab Ic, 10./NJG 11 was sent up against the "Mossies":
"Against Mosquitos to Berlin: 1. J. Div.: 3 Me 262, two for sure. No losses."[4]Mehner, Kurt (Hrsg.): Die geheimen Tagesberichte der Deutschen Wehrmachtführung; Page 323
Karl-Heinz Becker meets with the first Mosquito of the night at 21:26 hrs. He fires at the fast bomber and observes the bullets hitting the wing and the body. However, he is not convinced he has shot down his opponent – this Mosquito possibly escaped.
A second Mossie has less luck: when the first one escaped, Becker was able to pick up a second one, coming head-on in his direction. He takes a turn, following the white contrails of the bomber at 9.500 meters. He moves into position to her rear and slightly below, then opens fire. The Mosquito – so he write in his statement – breaks up immediately, a little while afterwards, he is observing the debris hitting the ground.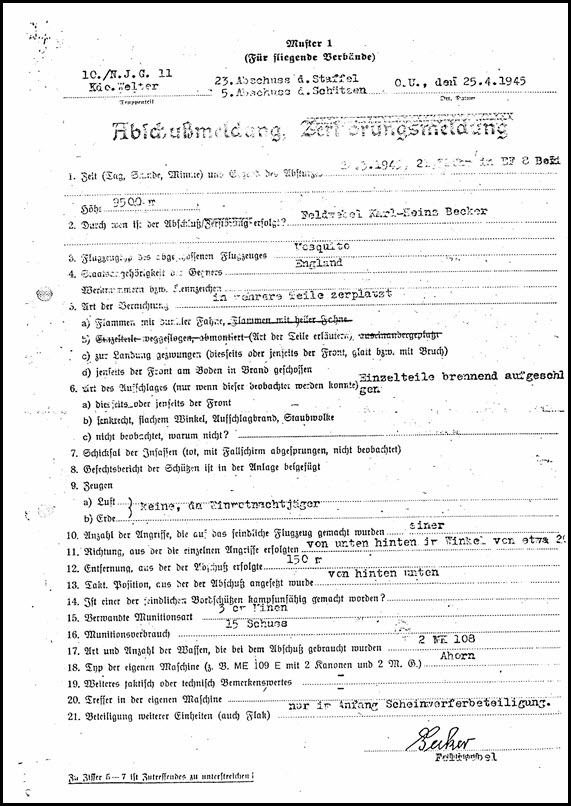 The Abschussmeldung also indicates that Karl-Heinz Becker was flying alone – he does not only not name an aerial witness,  he explicitly say that there is none, because he was flying alone.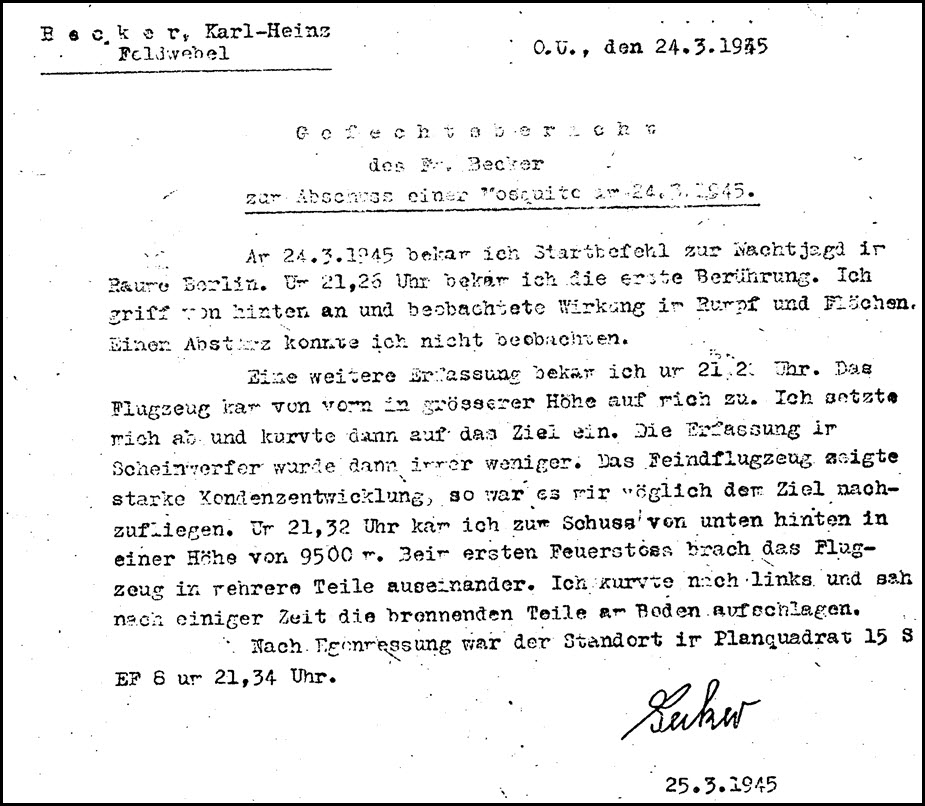 The loss is recorded at location 15 Ost Süd EF-8 at 21:34 hrs.
This could have been a clear case – one Mosquito damaged, one Mosquito shot down – but the Royal Air Force documents show a different story: neither among the raiders on Berlin nor the Mosquito intruders, a loss is recorded.
The first document to look at is the Summary of Aircraft damaged on Operations. For the night of March 24th, 1945, to March 25th, it lists a single Mosquito as damaged[5]Summaries of Aircraft Damaged on Operations – Dec 1942 – May 1945 (AIR 14/3460); Page 430. The damage assessment is
"24/25 March – Berlin – 8 Group – Mosquito XVI – No. 692 Sqn. D MM133(AC) 1e"
It is the same Mosquito – MM133 – that was slightly damaged the day before. According to the damage assessment, the aircraft was hit by a single 30mm bullet, likely from the Mk 108 of a Messerschmitt Me 262.
The British did notice the jet of 10./NJG 11 that night – the Records of Events of No. 139 Sqn. shows the following entry:
"The sky being clear gave the numerous searchlights a good chance to cone but only one jet fighter was seen, although it appeared that these were the only defence because no flak was experienced."[6]The National Archives, AIR 27/961
Of course, also the Records of Events of No. 692 Sqn., that MM133 belongs to, recorded the events:
"[…] two unidentified aircraft believed to be fighters were seen in the target area, and F/L LEASK in MM133 was hit by canon fire. Practically the whole of his rudder was shot away, tail plane and elevators damaged and aileron control nearly severed. Despite this, the pilot brought the damaged aircraft safely back to base, and made a perfect landing, displaying a very high degree of airmanship and courage."[7]The National Archives, AIR 27/2216
It appears to have been a close call – but Karl-Heinz Becker did not score a nocturnal victory that night and also, there is no record of a Mosquito that had received damage in wing and body. But at the end of the day, that is probably not the worst thing to happen… all involved airmen safely returned home. At least for this time…
| | | |
| --- | --- | --- |
| 1. | ↑ | Mehner, Kurt (Hrsg.): Die geheimen Tagesberichte der Deutschen Wehrmachtführung; Page 319 |
| 2. | ↑ | Middlebrook, Martin et al.; The Bomber Command War Diaries; Page 688 |
| 3, 4. | ↑ | Mehner, Kurt (Hrsg.): Die geheimen Tagesberichte der Deutschen Wehrmachtführung; Page 323 |
| 5. | ↑ | Summaries of Aircraft Damaged on Operations – Dec 1942 – May 1945 (AIR 14/3460); Page 430 |
| 6. | ↑ | The National Archives, AIR 27/961 |
| 7. | ↑ | The National Archives, AIR 27/2216 |