On March 26th, 1945, Herbert Altner is taking the final turns with "Rote 12" in Berlin-Staaken.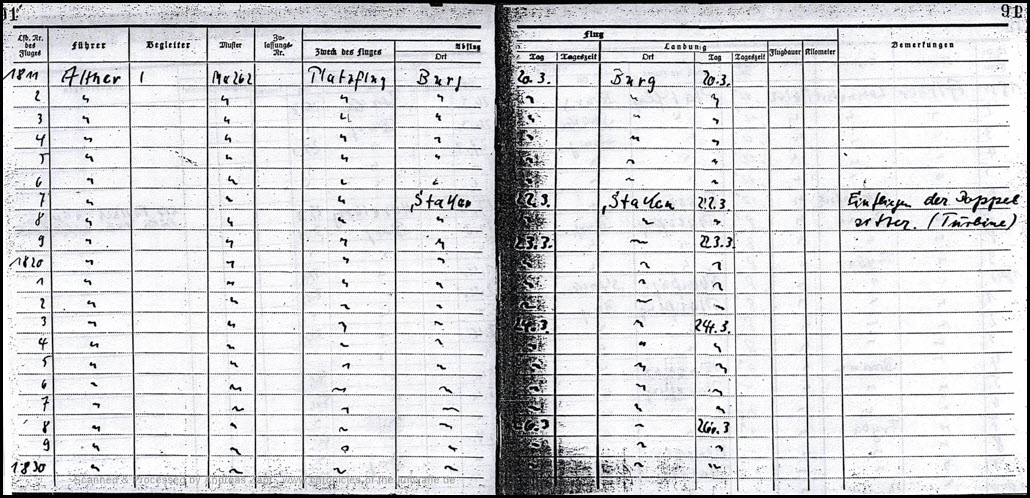 Finally, he transfers the new aircraft to Burg near Magdeburg where he adds a final flight, this time with his designated radio operator, Reinhard Lommatzsch, in the rear seat.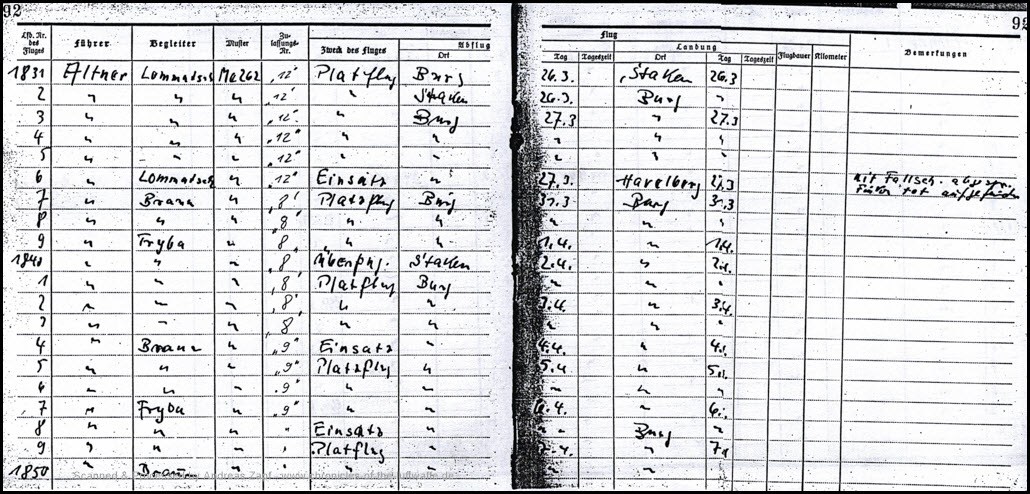 Flight #1830 – #1833 show why Herbert Altner's flight log is considered "inaccurate": if the was in Berlin-Staaken (Flight #1830), it is impossible for the next flight to go from Burg to Berlin-Staaken and the subsequent one (#1833) to go the opposite direction. But even if the two would have been recorded "in reverse order", they would not work out: the next flight (#1834) is then from and to Burg – so all in all, the entries provide hints to activity but they clearly show that they are not accurately showing the real flights of these days.
The evening report of the Luftwaffefürhungsstab Ic on March 26th, 1945, details:
"Against reconnaissance flights over central Germany: 1. J. Div.: 2 Me 262 (Kdo. Welter), no successes, no losses."[1]Mehner, Kurt (Hrsg.): Die geheimen Tagesberichte der Deutschen Wehrmachtführung; Page 326
Once more, the night allows the Light Night Striking Force one of its continued attacks on the German capital – 86 Mosquitos are leaving for Berlin[2]Middlebrook, Martin et al.; The Bomber Command War Diaries; Page 688, their route takes them to the Zuider Zee, then on to Osnabrück – Hannover – Braunschweig to Berlin. They reached their target arnound 21:17 hrs., bombing continued to 21:45 hrs.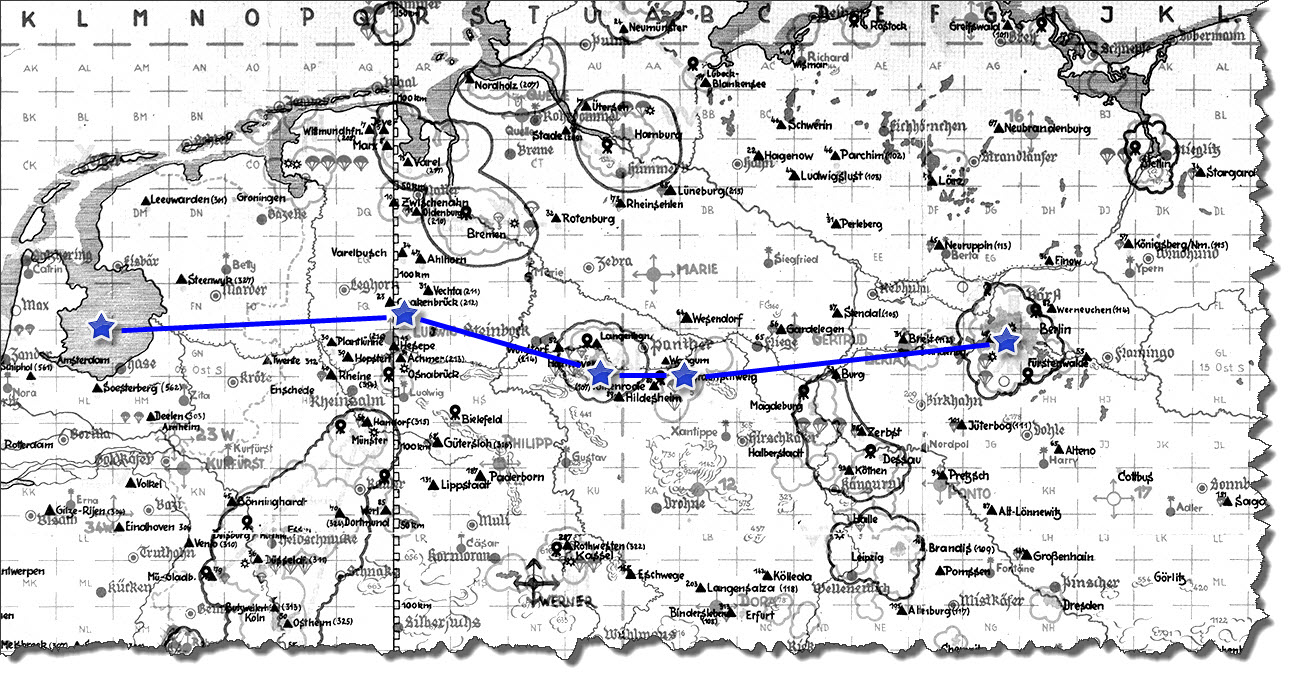 It appears as if there had been no own missions flown to counter the attack by the Luftwaffe, there is no indication in the next morning's report by the Luftwaffeführungsstab Ic. However, the Records of Events for No. 139 Sqn. contains the following:
"Defences: One jet propelled aircraft seen in target area. Slight predicted flak."[3]The National Archives, AIR 27/961
Also,  there are indications that at least Lt. Jörg Czypionka was on a mission that night, noting an "Einsatz" on "Rote 6″[4]Personal account provided by Jörg Czypionka.
| | | |
| --- | --- | --- |
| 1. | ↑ | Mehner, Kurt (Hrsg.): Die geheimen Tagesberichte der Deutschen Wehrmachtführung; Page 326 |
| 2. | ↑ | Middlebrook, Martin et al.; The Bomber Command War Diaries; Page 688 |
| 3. | ↑ | The National Archives, AIR 27/961 |
| 4. | ↑ | Personal account provided by Jörg Czypionka |