On March 27th, 1945, the next attack of the Light Night Striking Force on Berlin occurs – this time, a total of 82 Mosquitos aer sent to Berlin. A smaller force of 7 Mosquitos attacks Bremen, further the cities Erfurt (4 Mosquitos), Hannover (3), and Magdeburg (3) are on the target list. An additional 8 Mosquitos are performing mine-laying operations on the Elbe river[1]Middlebrook, Martin et al.; The Bomber Command War Diaries; Page 689. The night skies are quite busy…
The Berlin-bound Mosquitos are flying on a route across northern Holland – Oldenburg – Lüneburg – Ludwigslust – Neustrehlitz – Prenzlau to Berlin[2]Mehner, Kurt (Hrsg.): Die geheimen Tagesberichte der Deutschen Wehrmachtführung; Page 331. The Mosquitos are reaching their target around 21:25 hrs., the bombing continues to 21:47 hrs.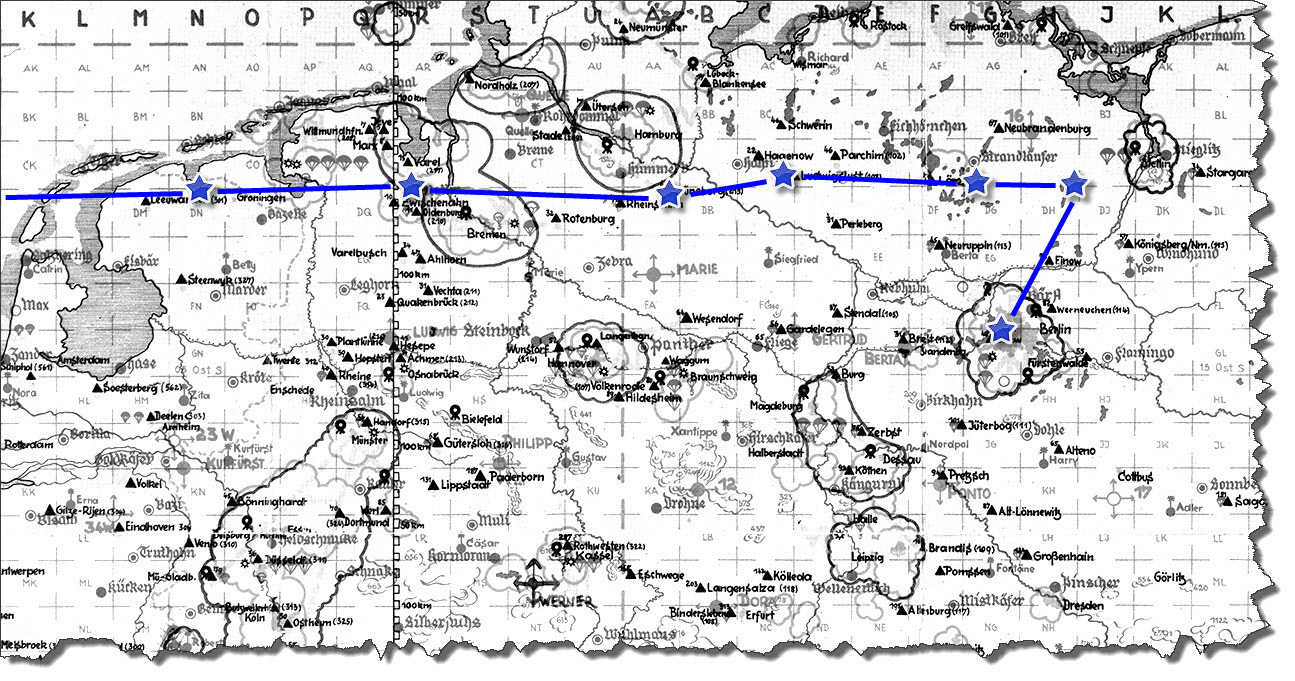 The morning report of the Luftwaffeführungsstab Ic from March 28th, 1945, records:
"Against Mosquitos to Berlin: 1. J. Div.: 6 Me 262, two for sure, Losses: 0-1-0, 1-0-0[3]Format: p(ersonell): 0 (killed) – 1 (missing) – 0 (injured), m(aterial): 1 (destroyed) – 0 (missing) – 0 (damaged) ."[4]Mehner, Kurt (Hrsg.): Die geheimen Tagesberichte der Deutschen Wehrmachtführung; Page 331
With six Messerschmitt Me 262 in the air, this is one of the larges missions of 10./NJG 11. Five of those were single-seaters, Messerschmitt Me 262 A-1a but Herbert Altner and Reinhard Lommatzsch were also flying "Rote 12", the Messerschmitt Me 262 B-1a/U1 interim Night Fighter.
Karl-Heinz Becker has provided a combat report for the night:
"At 20:58 hrs., I took off for a nocturnal mission over the Object Berlin. The light conditions were poor, it was impossible to identify and enemy aircraft coned by any searchlight. After I had to let go one target, I headed for 'the object' again. I identified a Mosquito on opposite heading with a strong development of contrails.
From below, I slowly turned into the target's course. At 21:38 hrs., in about 8.500 meters, I could now clearly see my target and, pulling up, fired at him from about 150 meters. The volley was point blank and spot on, while taking a left turn at the same time. I could observe wreckage falling in flames and hitting the ground.
According to Egon-results, the kill happened at location [15 Ost Süd] FF 5 near Nauen."[5]Translation of Karl-Heinz Becker's Combat Report
A copy of the original records is also available: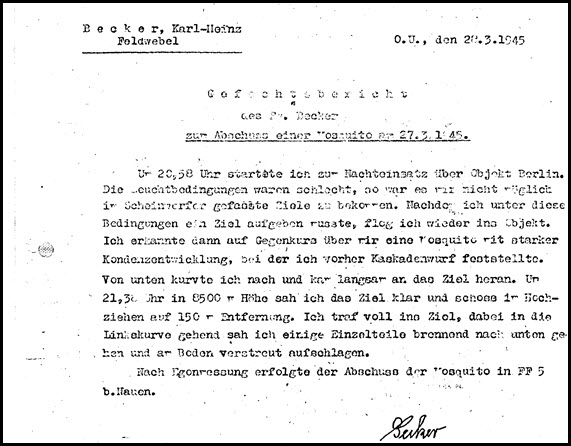 The Abschussmeldung, which has also survived the times, shows that despite 6 aircraft in operation that night, no witness is mentioned, indicating the individual tactics of the Nachtjagd of having aircraft operating only as a loose unit over a defined area but acting individually.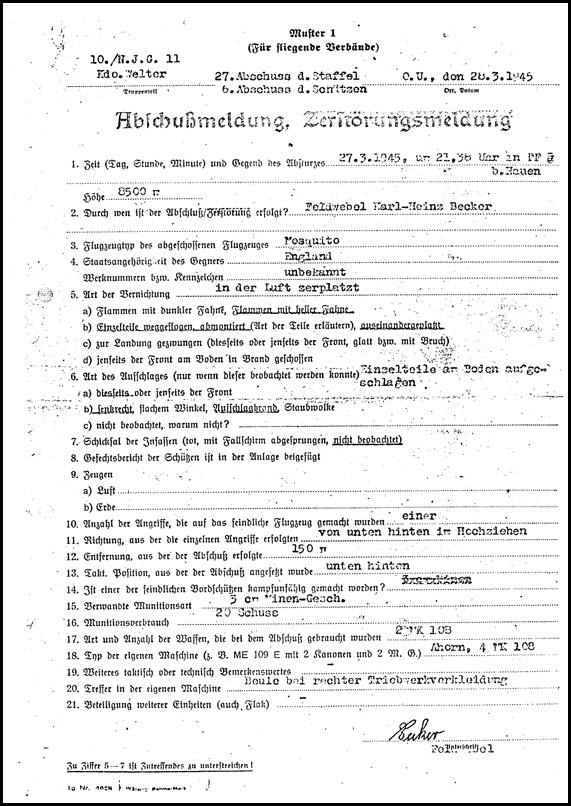 The Abschussmeldung also shows that Becker was only using two of the four Mk 108 30mm canons of his jet and that he only fired 20 rounds. Apparently, he was hit by debris again, he notes a bump in the engine nacelle on the right side, possibly caused by a collision with the debris.

While Karl-Heinz Becker manages to bring down one of the fast bombers, Herbert Altner and Reinhard Lommatzsch face the difficulties of the early jets – here is his account:
"On my first mission [with the Me 262 B-1a/U1] I made a mistake. After my radio operatior Uffz. Lommatzsch had picked up a target [using the SN-2 Radar the twinseater was equipped with] I changed my heading accordingly. But we were way too fast – the target was a Mosquito as I was not able to see. To reduce sped, I throttled back – too much, as it turned out, the engines flamed out!
Although I had no troubles handling the Me 262 as such, an in-flight engine restart was a difficult thing, especially at night. So we decided to abandon the aircraft. Unfortunately, my radio operator was killed on that occasion, he must have hit the stabilizer because when we found him, his parachute was not opened and he had not tried to pull the cord."[6]Personal account by Herbert Altner, Jägerblatt 06/2005, Page 22
Herbert Altner survives the loss of the first twin-seater, the Me 262 B-1a/U1 crashes near Havelberg.

The flight is also properly recorded in Altner's Flugbuch, again without the actual time information.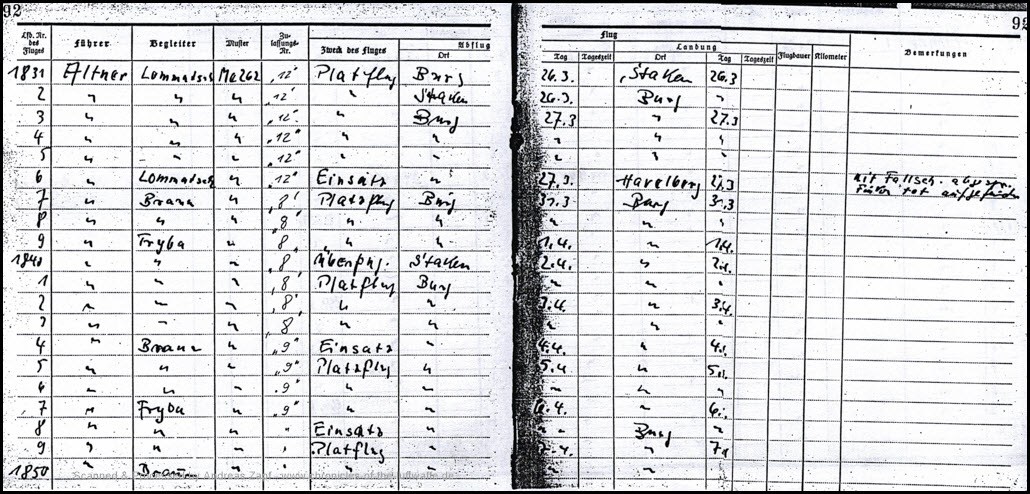 This is the loss mentioned in the morning report of the Luftwaffeführungsstab Ic as detailed earlier. But what about the RAF side of things? As usual, the first check goes to the Summaries of Aircraft damaged on Operations – it lists a total of four missing Mosquitos, three from the operation against Berlin, one from the Minelaying operation. Also, it lists two damaged Mosquitos[7]Summaries of Aircraft Damaged on Operations – Dec 1942 – May 1945 (AIR 14/3460); Page 433.
One of the damaged ones, MM202 from No. 128 Sqn. and one of the lost ones, RV326, are accounted for: they collide over the Netherlands on the inbound leg. While MM202, flown by F/L L. G. Smith and W/O Lane, manages to return to Woodbridge and land there at 21:35 hrs., RV326 goes into an unrecoverable spin and crashes near Zevenhuisen, Netherlands. Her crew, F/O Gordon David Hudson and F/O Maurice George Gant, is killed in the crash – they are the first victims of the night (please also see here).

The Mosquito lost from the mine laying operations is DZ599, flown by F/O W. A. Barnett and F/S J. A. Day. She calls the formation leader at 22:01 hrs., saying that they need to ditch the aircraft in the North Sea. F/O Barnett manages to get into the dinghy but F/S Day fails to do so and presumably drowns in the cold North Sea.

This leaves two Mosquitos to look at for possible losses – one No. 139 Sqn. Mosquito (MM131) and one No. 692 Sqn. Mosquito (PF466).
The "Pathfinder" Mosquito – MM131 – was piloted by F/L Andre van Amsterdam with S/L Harry A. Forbes as the navigator. Forbes, who survives the crash of the bomber and is taken prisoner of war, remebers:
"Our aircraft, a Mosquito Mk. XVI code XD-J, was hit without warning and went into an uncontrollable spiraling descent"[8]Source and full account: http://www.bomber-command.info/memnavforbes.htm
Unfortunately, F/L van Amsterdam did not survive the crash – he is said to have been on his 101st combat mission.

This Mosquito very likely fell prey to the cannons of one of the Me 262 night fighters – possibly Jörg Czypionka's[9]Personal account by Jörg Czpionka victim.
Finally, Mosquito PF466 needs to be looked at: she is leaving her base at Graveley at 19:11 hrs. for a mission over Berlin. Since then, nothing was heard of her and her crew ever again, F/L Eric Stanley Vale and F/O Frederic John Manning remain missing in action.

Given the target (Berlin) and the fact that there is Karl-Heinz Becker's claim still unaccounted for, it is entirely possible that this Mosquito fell victim to the Night Fighters of 10./NJG 11 – especially since the morning report of the Luftwaffeführungsstab Ic claims two Mosquitos (one of which certainly is Becker's Mosquito).
| | | |
| --- | --- | --- |
| 1. | ↑ | Middlebrook, Martin et al.; The Bomber Command War Diaries; Page 689 |
| 2, 4. | ↑ | Mehner, Kurt (Hrsg.): Die geheimen Tagesberichte der Deutschen Wehrmachtführung; Page 331 |
| 3. | ↑ | Format: p(ersonell): 0 (killed) – 1 (missing) – 0 (injured), m(aterial): 1 (destroyed) – 0 (missing) – 0 (damaged) |
| 5. | ↑ | Translation of Karl-Heinz Becker's Combat Report |
| 6. | ↑ | Personal account by Herbert Altner, Jägerblatt 06/2005, Page 22 |
| 7. | ↑ | Summaries of Aircraft Damaged on Operations – Dec 1942 – May 1945 (AIR 14/3460); Page 433 |
| 8. | ↑ | Source and full account: http://www.bomber-command.info/memnavforbes.htm |
| 9. | ↑ | Personal account by Jörg Czpionka |