On March 30th, 1945, the Royal Air Force is attacking two targets in central German – first, 43 Mosquitos are sent to Berlin, they are bombing the city between 21:35 hrs and 21:45 hrs. Only briefly afterwards, a second force of 43 Mosquitos is attacking Erfurt, they are reaching their target between 23:35 hrs. and 23:50 hrs[1]Middlebrook, Martin et al.; The Bomber Command War Diaries; Page 690.
The Berlin-Force follows a route to the Zuider Zee, then Osnabrück – Hannover – Braunschweig – Brandenburg and on to Berlin. The Erfurt-Force is taking a southerly approach via Koblenz – Gießen – Eisenach to Erfurt[2]Mehner, Kurt (Hrsg.): Die geheimen Tagesberichte der Deutschen Wehrmachtführung; Page 338.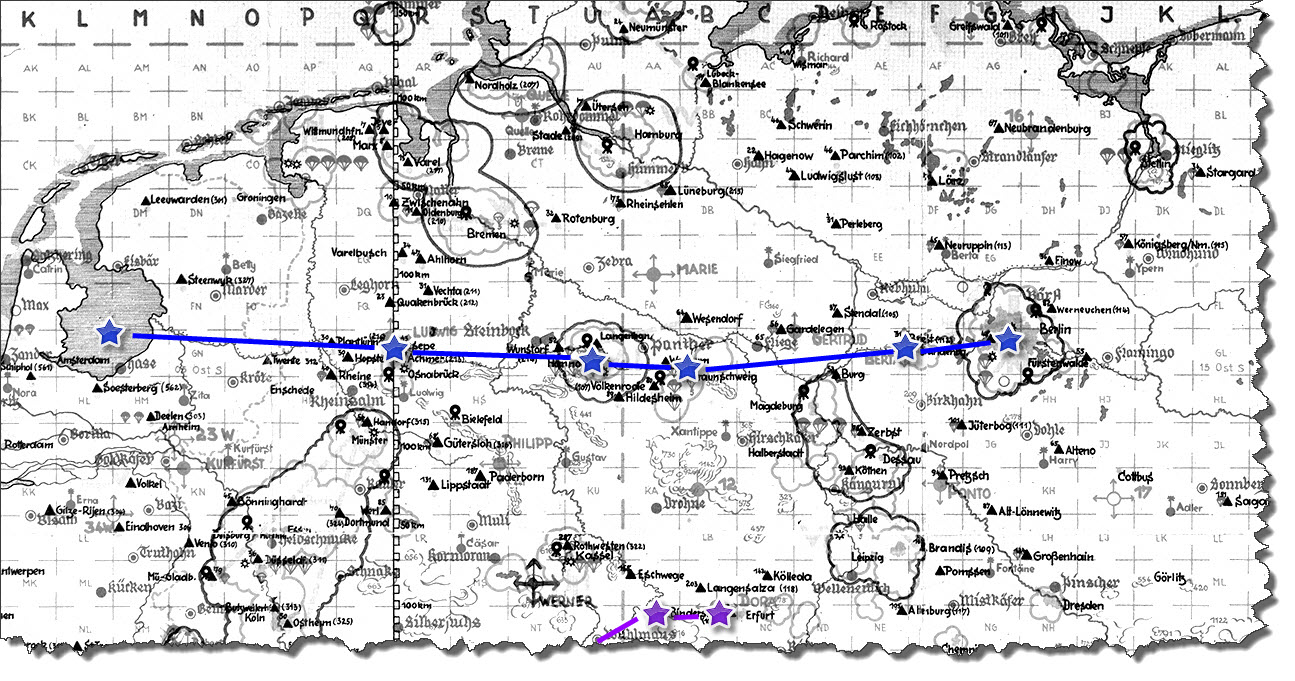 Unfortunately, there is no copy of the morning report of the Luftwaffeführungsstab Ic available, hence there is no information about any missions from this source. But 10./NJG 11 was active to counter the attack on Berlin: Karl-Heinz Becker is recording a nocturnal mission, leaving Burg at 21:29 hrs. and returning 22:25 hrs. – his 10th nocturnal mission.

And once more, Karl-Heinz Becker submits an Abschussmeldung – claims a victory over a Mosquito: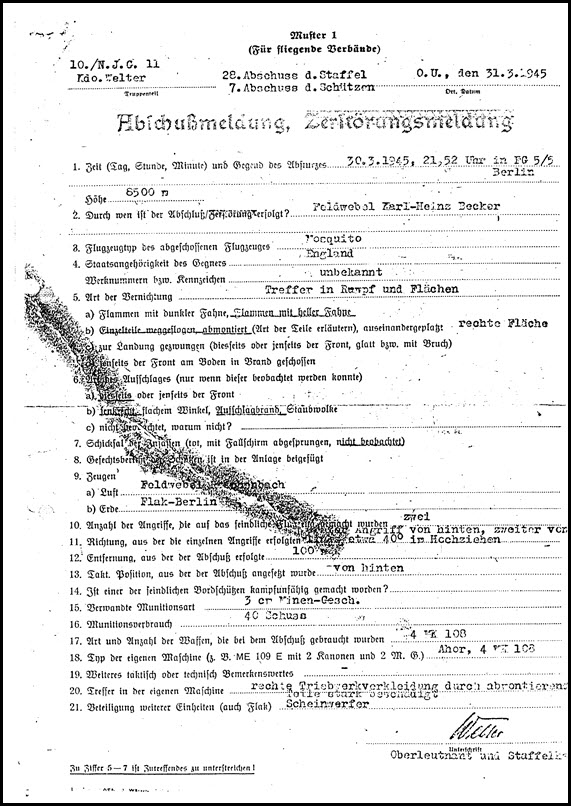 It takes him two approaches on the fast-flying bomber, his second attempt hits the Mosquito in body and wings. This time, there is no combat report by Karl-Heinz Becker but a written statement of Fw. Fritz Reichenbach, who also serves as the witness in this claim:
"At 21:51 hrs I picked up a Mosquito at 8.500 meters which I moved into position for. I suddenly noticed an own aircraft to my left. Over radio, I heard Fw. Becker: do not fire, I am on him already. Briefly afterwards, I witnessed two cannon bursts with send the Mosquito down at once. The aircraft was coned by searchlights till it hit the ground"
A copy of this statement is available for reference: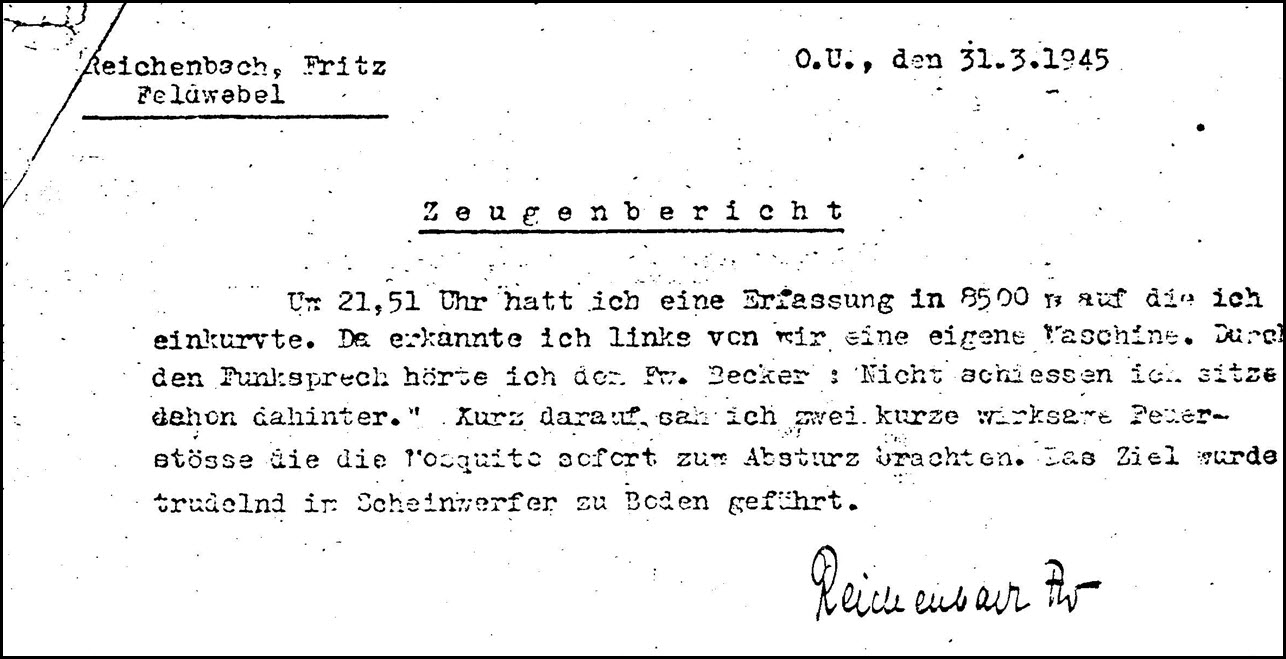 So what about the Royal Air Force side of things: as usual, the first check goes to the Summaries of Aircraft damaged on Operations. From the Mission to Berlin, one Mosquito of No. 692 Sqn. is listed as missing – RV341. A second Mosquito from No. 608 Sqn. is listed as damaged by fighter, KB358.

Besides the actual loss of RV341, there is documented evidence in the Records of Events showing that other Mosquito crews also encountered the jets of 10./NJG 11:
No. 128 Sqn. states "suspected fighter saw at Mageburg", probably should say "suspected fighter seen at Magdeburg"[3]

Records of Events, No. 128 Sqn. (AIR 27/932)

.
No. 139 Sqn. states that "one aircraft was attacked by a jet" – without mentioning which aircraft of the unit had the encounter[4]

Records of Events, No. 139 Sqn. (AIR 27/961)

.
No. 692 Sqn. states that "one pilot saw tracer shortly after leaving target"[5]

Records of Events, No. 692 Sqn. (AIR 27/2216)

.
| | | |
| --- | --- | --- |
| 1. | ↑ | Middlebrook, Martin et al.; The Bomber Command War Diaries; Page 690 |
| 2. | ↑ | Mehner, Kurt (Hrsg.): Die geheimen Tagesberichte der Deutschen Wehrmachtführung; Page 338 |
| 3. | ↑ | Records of Events, No. 128 Sqn. (AIR 27/932) |
| 4. | ↑ | Records of Events, No. 139 Sqn. (AIR 27/961) |
| 5. | ↑ | Records of Events, No. 692 Sqn. (AIR 27/2216) |