The next claim from a pilot of 10./JG 300 – again, Kurt Welter – is made during the night of September 18th, 1944, to September 19th: one Mosquito north of Wittenberg at location 15 Ost S / JF-JF[1]Lorant, Jean-Yves; Goyat, Richard: Jagdgeschwader 300 "Wilde Sau" – Volume 2; Hamilton, USA; Eagle Editions Ltd., 2007, Page 353. Once more, no loss is recorded by Bomber Command and once more, there is the question of "other" Mosquitos that may have been lost. And there are some:




Taking into account a take-off time of 11:55 hrs., the Mosquito MM231 of No. 544 Sqn. certainly can be excluded.
For Mosquito NS962, the cause of loss has been established as "blinded by searchlights", the accounts of the Luftwaffe mean at the Plantlünne airfield are clearly describing the event.
Finally, the two other losses,  DZ635 at Schiffdorf/Bremerhaven and PZ177 at Gütersloh don't match up – neither in location nor times. So far, so good… (or not).
The Bomber Command Report on Night Operations touches the attack on Berlin only briefly:
"Berlin: 22/33 Mosquitos bombed Berlin. Only two of the Y-aircraft dropped markers, and the bombing was scattered. Weather: 3-5/10ths patchy low stratus. Flak was moderate to intense, with active searchlight on operation. No fighters were encountered. All aircraft returned safely."[2]Bomber Command Reports on Night Operations, 18/19th September 1944 (AIR 14/3412)
In addition to the raid on Berlin, the Royal Air Force is attacking Bremerhaven – 206 Lancaster bombers and 7 Mosquito Marker aircraft are involved, this is the raid DZ635 is lost on.
Other than that, intruder and electronic counter measure missions are flown: 33 Mosquitos against Berlin, 6 are attacking the city of Rheine[3]Middlebrook, Martin et al.; The Bomber Command War Diaries; a.a.O, Page 586. The attack on Berlin is not "spot-on", the bombers are drifting a good way to the south, consequently, the German Luftwaffe High Command is seeing this as an attack into the Magdeburg – Dessau area with a diversion attack on Leipzig and Wittenberg[4]Mehner, Kurt (Hrsg.): Die geheimen Tagesberichte der Deutschen Wehrmachtführung; a.a.O; Page 49 – and not as an attack on Berlin. The Records of Events of No. 139 Sqn. is detailing:
"[…] This raid was not highly successful. 3 a/c returned early. […] This left 4 Marker a/c, of these one had u/s H2S and bombed only. Of the remaining 3 Markers, 2 dropped on H2S over Berlin at the correct time. The remaining Marker marked an unidentified town in N.W. Germany believed to be Leipzig."[5]No 139 Sqn. Records of Events, September 1944 (AIR 27/961)
The account continues
"The weather was patchy cloud, hazy with winds differing widely from those forecast. This caused the majority of a/c to be south of the track."
The accounts above clearly show: Kurt Welter's provided location for this claim perfectly matches up with the RAF's chosen outbound route from Berlin via Leipzig and home. But the Mosquitos are "over the target" an hour before Welter makes his claim -Berlin is bombed between 21:54 hrs. and 22:06 hrs.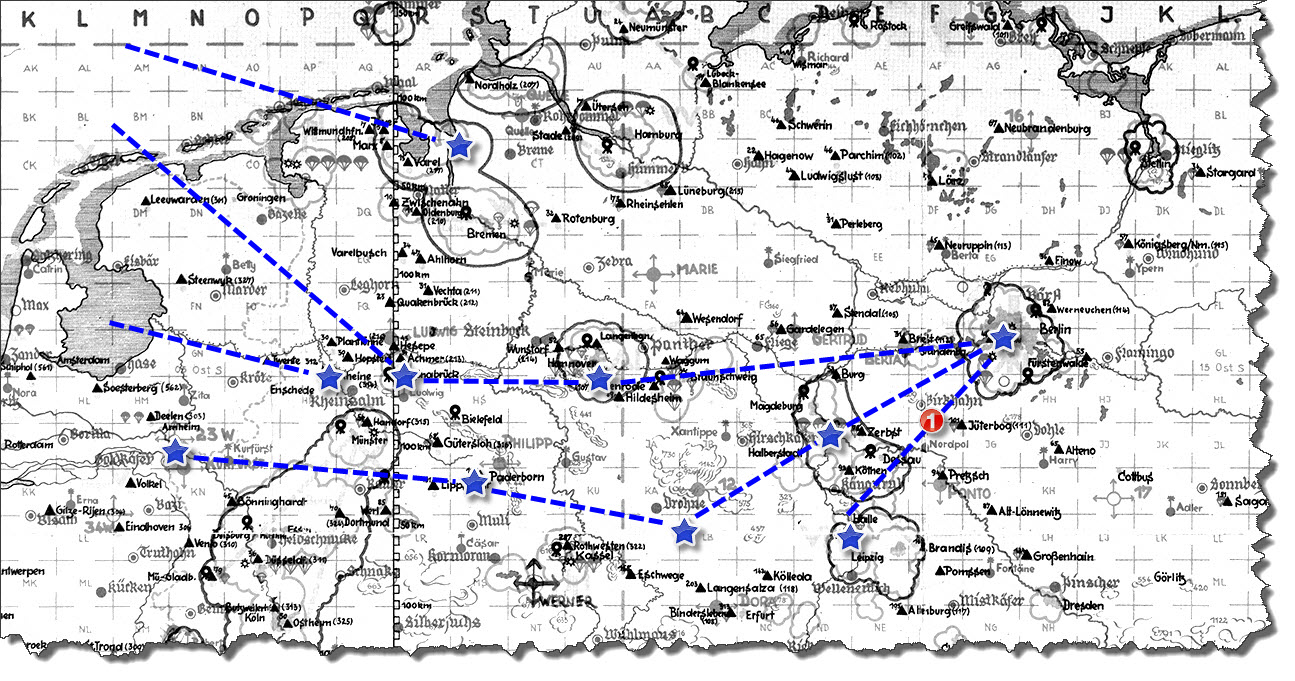 Either, the Mosquitos were really "spread out far and wide" or there was an additional Mosquito in the area, maybe an intruder of RAF 100 Group. What makes this claim interesting is that despite the obvious lack of a "victim", the claim was acknowledged in January 1945, one of the last one to be recognized.[6]Lorant, Jean-Yves et al.: JG 300 "Wilde Sau" – Vol. 2; a.a.O., Page 353
The Mosquitos of No. 239 Sqn. had already returned home by the time Welter made his claim[7]No 239 Sqn. Records of Events, September 1944 (AIR 27/1456) . Their target area, Bremerhaven, was too far to the west anyways.
Hard to decipher but probably also already home were the four intruders of No. 157 Sqn[8]No 157 Sqn. Records of Events, September 1944 (AIR 27/1046) . The remaining Squadrons also have no information to provide:
No. 85 Sqn. "nothing to report"[9]

No 85 Sqn. Records of Events, September 1944 (AIR 27/706)

No 141 Sqn. already "back at base"[10]

No 141 Sqn. Records of Events, September 1944 (AIR 27/971)

No. 169 Sqn. also already "back at base"[11]

No 169 Sqn. Records of Events, September 1944 (AIR 27/1094)

No. 192 Sqn. only with flights over the Zuiderzee.[12]

No 192 Sqn. Records of Events, September 1944 (AIR 27/1156)
Last but not least, No. 515 Sqn. is flying a Mosquito far north of the area in question: leaving their base at 20:00 hrs, F/O Harrison and F/SGT Adams are on a tour to Schwerin, Grabow, and Stendal. At 22:45 hrs, they are near Lake Schwerin and as such way to far to the north for Kurt Welter's claim. Other flights of No. 515 Sqn. are also active but their routes are passing over the western parts of the Reich.
Finally, the Summary of Aircraft Damaged on Operations lists two No. 692 Sqn. Mosquitos and one No. 139 Sqn. Mosquito as "damaged by Flak". And this is it – which Mosquito Kurt Welter was fighting is a question that can – at least currently – not be answered. But it is unlikely he shot her down…
This night's attack on Berlin was the last during the month of September 1944. Bad weather moving in was one reason, but more importantly was the fact that the allied forces were busy "elsewhere": starting September 17th, 1944, "Operation Market Garden" is keeping both sides busy on the western front, in the German-Dutch border region.
Although not related to the attacks on Berlin, "Market Garden" still has an impact on the pilots of JG 300: all Gruppen with the exception of 10./JG 300, are temporarily transferred to the west to support countering the allied offensive.
| | | |
| --- | --- | --- |
| 1. | ↑ | Lorant, Jean-Yves; Goyat, Richard: Jagdgeschwader 300 "Wilde Sau" – Volume 2; Hamilton, USA; Eagle Editions Ltd., 2007, Page 353 |
| 2. | ↑ | Bomber Command Reports on Night Operations, 18/19th September 1944 (AIR 14/3412) |
| 3. | ↑ | Middlebrook, Martin et al.; The Bomber Command War Diaries; a.a.O, Page 586 |
| 4. | ↑ | Mehner, Kurt (Hrsg.): Die geheimen Tagesberichte der Deutschen Wehrmachtführung; a.a.O; Page 49 |
| 5. | ↑ | No 139 Sqn. Records of Events, September 1944 (AIR 27/961) |
| 6. | ↑ | Lorant, Jean-Yves et al.: JG 300 "Wilde Sau" – Vol. 2; a.a.O., Page 353 |
| 7. | ↑ | No 239 Sqn. Records of Events, September 1944 (AIR 27/1456) |
| 8. | ↑ | No 157 Sqn. Records of Events, September 1944 (AIR 27/1046) |
| 9. | ↑ | No 85 Sqn. Records of Events, September 1944 (AIR 27/706) |
| 10. | ↑ | No 141 Sqn. Records of Events, September 1944 (AIR 27/971) |
| 11. | ↑ | No 169 Sqn. Records of Events, September 1944 (AIR 27/1094) |
| 12. | ↑ | No 192 Sqn. Records of Events, September 1944 (AIR 27/1156) |