On April 2nd, 1945, the weather further deteriorated: for north-western Germany, the Morning Report of the Luftwaffenführungsstab Ic records the following:
"Weather: NW- Germany 10/10 with clouds at 150 – 300 m, later 500 m. Cloud tops at 1.500 m, above high clouds. Light rain, 5-10 km visibility"[1]Luftwaffenführungsstab Ic, Morning Report 01019/45 (BArch. RL 2-II/389)
Still, Herbert Altner and Hans Fryba are finding some time to take "Rote 8" to the skies – despite the weather condition, they are taking turns around Burg.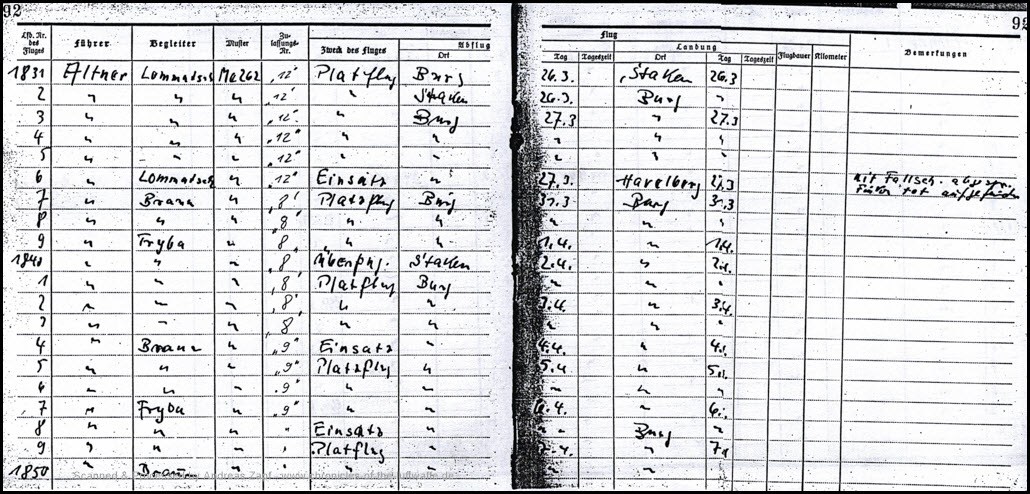 Once more, the inaccuracy of Altner's log shows: he is recording a check ride between Berlin-Staaken and Burg (Flight #1841) but the aircraft had not been flown to Berlin – she was in Burg the evening before.
In the night of April 2nd, 1945, to April 3rd, 54 Mosquitos are sent to Berlin, 50 are going to Magdeburg. 1 Mosquito from the Berlin raid is lost[2]Middlebrook, Martin et al.; The Bomber Command War Diaries; Page 690.
The Morning Report of the Luftwaffeführungsstab Ic details the attack and the own engagement: between 23:30 hrs. and 01:55 hrs, about 60 Mosquitos are approaching Berlin on a route via the Zuider Zee – Meppen – Osnabrück – Hildesheim – Magdeburg[3]Luftwaffenführungsstab Ic, Evening Report 01031/45 (BArch. RL 2-II/389) .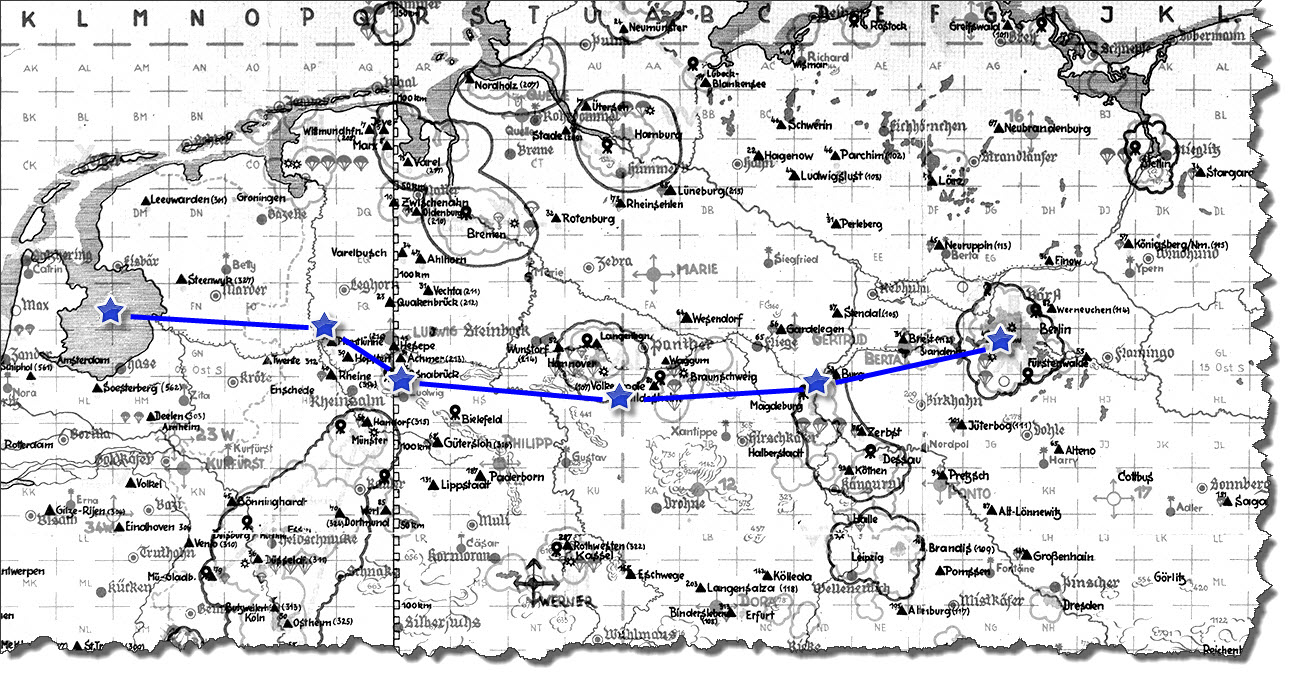 The following is recorded on the Luftwaffe's own engagement:
"Against Mosquitos to Berlin: 1. J. Div.: 5 Me 262 (Kdo. Welter) Mosquito hunting. 1 for sure. Losses: p: 0-1-0,  m:0-1-0"[4]Luftwaffenführungsstab Ic, Evening Report 01031/45 (BArch. RL 2-II/389)
In other words: one of the pilots and his aircraft are missing when the report is written. The Royal Air Force records the following loss:

Mosquito KB185 of No. 139 Sqn. fails to return, both of her crew are still missing in action and are remembered on the Runnymede Memorial, Panel 265.
As for 10./NJG 11, the loss cannot be pinpointed that easily – but there is circumstantial evidence, that the lost jet was a Messerschmitt Me 262 A-1a, flown by Ofw. Heinrich von Stade.

So late in the war, there are no written account left, e.g. an entry in the official GQM Loss List, but here are some indirect hints:
the Volksbund Deutscher Kriegsgräberfürsorge lists the date of death for Heinrich v. Stade as April 2nd, 1945.
reportedly, the unit did lose one of her jets by involuntarily ramming a Mosquito on an nocturnal mission.
reportedly, Welter did say in a post-war statement, that Heinrich von Stade was the unit's only pilot killed on a mission.
On April 7th, 1945, the British Radio Intelligence units picked up a German transmission, a report of Fliegerkorps IX[5]The National Archives, DEFE-3/564 – BT9790, 7. April 1945:

This intercepted message supports the operations of the night fighters and the loss of one of their own.
| | | |
| --- | --- | --- |
| 1. | ↑ | Luftwaffenführungsstab Ic, Morning Report 01019/45 (BArch. RL 2-II/389) |
| 2. | ↑ | Middlebrook, Martin et al.; The Bomber Command War Diaries; Page 690 |
| 3, 4. | ↑ | Luftwaffenführungsstab Ic, Evening Report 01031/45 (BArch. RL 2-II/389) |
| 5. | ↑ | The National Archives, DEFE-3/564 – BT9790, 7. April 1945 |