On April 6th, 1945, the weather continues to be difficult at first but clears up during the day. Lt. Herbert Altner is once again taking a short hop around the airfield with Fw. Hans Fryba in the back.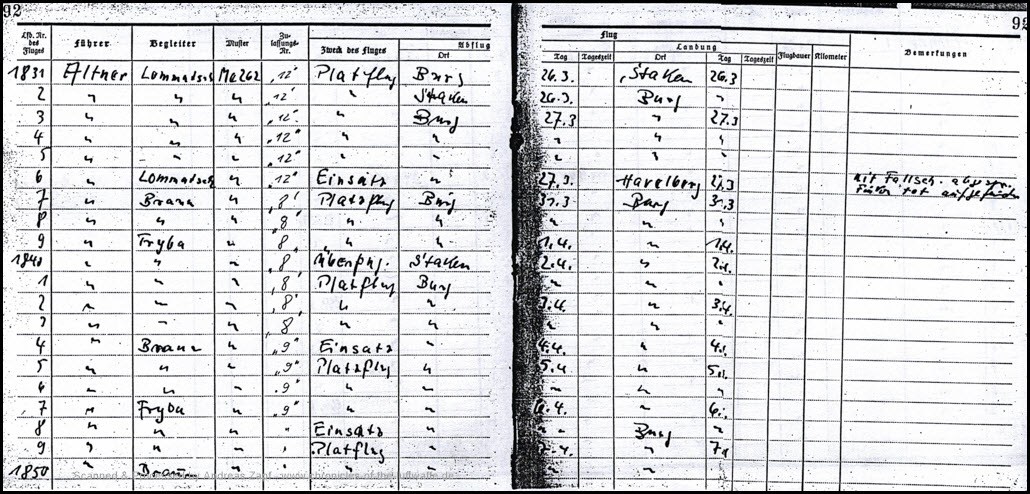 He also notes a mission later the day – since Altner is flying a Me 262 B-1a/U1, it is highly unlikely that any mission would be anything else but a nocturnal mission but the morning report of the Luftwaffeführungsstab Ic on April 7th, 1945, does not show any missions flown this very night[1]BArch. RL 2-II/389.
On the other hand, a claim is attributed to Herbert Altner by Richard Smith and Eddie Creek in their 3rd Volume of the Me 262 book series[2]Smith, J. Richard et al.; Me 262 Volume 3; a.a.O., Page 467, unfortunately without providing a source.
Looking at the RAF side of operations, there are not missions recorded by Bomber Command, including no "minor missions" which typically list the Mosquito attacks[3]Middlebrook, Martin et al.; The Bomber Command War Diaries; Page 692. Also, the night fighters of RAF No. 100 Group don't seem to record any missions either – the Summary of Events for No. 85 Sqn. states for the night of April 6th, 1945:
"Operations were cancelled again and no night training was carried out."[4]The National Archives, AIR 27/706
Other RAF No. 100 Group units also reflect the lack of operations during this timeframe. It appears highly unlikely that a mission was flown that night, especially since the RAF Records show that no enemy aircraft would have been invading German air space as a potential target.
| | | |
| --- | --- | --- |
| 1. | ↑ | BArch. RL 2-II/389 |
| 2. | ↑ | Smith, J. Richard et al.; Me 262 Volume 3; a.a.O., Page 467 |
| 3. | ↑ | Middlebrook, Martin et al.; The Bomber Command War Diaries; Page 692 |
| 4. | ↑ | The National Archives, AIR 27/706 |