The first days of October 1944 must have been quiet but latest in the night of October 5th, 1944, to October 6th the pilots of 10./JG 300 are seeing action again. Two victory claims are made, two Mosquitos[1]Foreman, John et al.: Luftwaffe Night Fighter Combat Claims; a.a.O., Page 219.
The first one is claimed by Lt. Karl Mitterndorf of 10./JG 300 – the time is 20:30 hrs. The second one, only two minutes later, is claimed by Uffz. Günther of 2./Erg. NJGr. – both over Berlin. Both claims are marked as "Red 1" and "Blue 1" on the map below.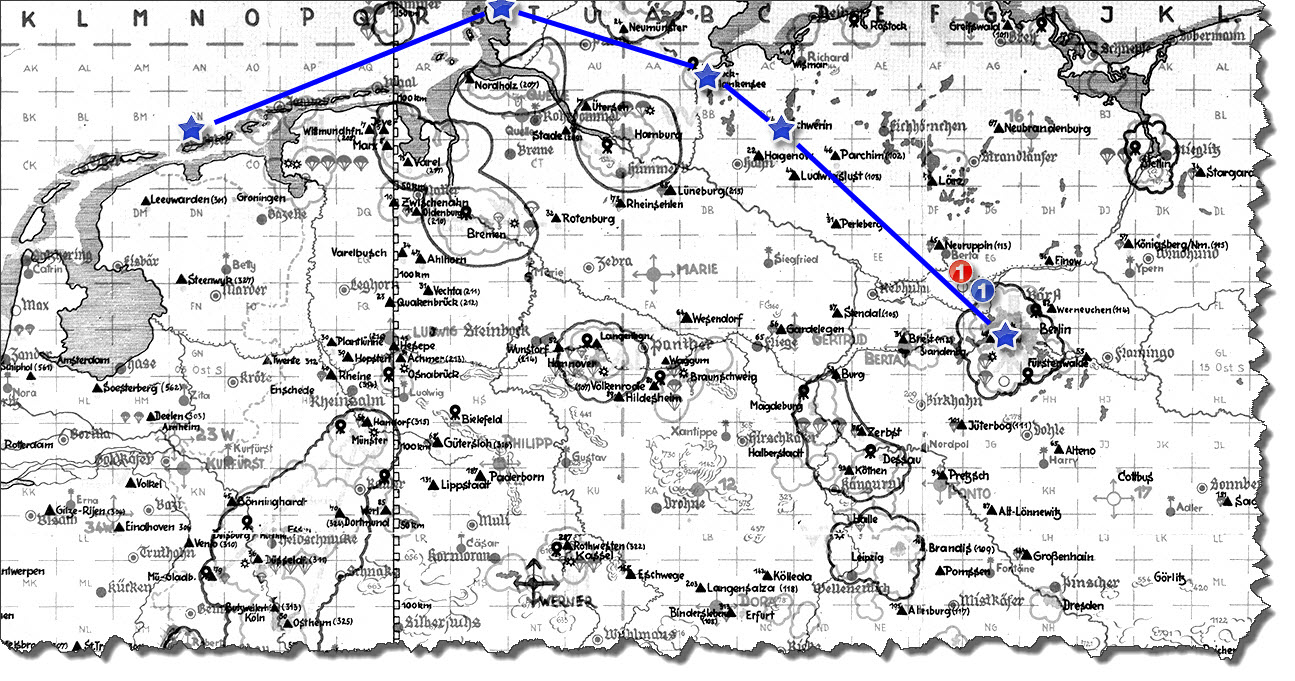 Like so many other times, the loss lists of the Bomber Command do not show matching entries – the Light Night Striking Force, which was over the "big city" between 20:39 hrs. and 20:45 hrs. is not suffering any losses, all their 20 aircraft are safely returning home[2]Middlebrook, Martin et al.; The Bomber Command War Diaries; a.a.O, Page 595.
The Summary of Aircraft Damaged on Operations does not show any losses either – 5 Mosquitos show flak-typical damage but none is listed with damage received during a night fighter attack[3]Summaries of Aircraft Damaged on Operations – Dec 1942 – May 1945 (AIR 14/3460); Page 281.
| | | |
| --- | --- | --- |
| 1. | ↑ | Foreman, John et al.: Luftwaffe Night Fighter Combat Claims; a.a.O., Page 219 |
| 2. | ↑ | Middlebrook, Martin et al.; The Bomber Command War Diaries; a.a.O, Page 595 |
| 3. | ↑ | Summaries of Aircraft Damaged on Operations – Dec 1942 – May 1945 (AIR 14/3460); Page 281 |