On April 7th, 1945, the weather is clearing up. The Evening Report of the Luftwaffe Führungsstab Ic records on "Weather":
"Area Parchim, Güstrow, Schwerin: 4-7/10, from 500 – 800 m to 2.000 m. 3/10 above 7.000 m, Visibility 10 – 20 km."[1]BArch. RL 2-II/389
For the area "Central Germany", the following is recorded:
"Patches of fog during the morning, then partially sunny until noon, later upcoming clouds to 6/10 in 1.500 – 2.000 m, Visibility 10 – 20 km."[2]BArch. RL 2-II/389
These are flying conditions and Herbert Altner takes "Rote 9" out twice around the airfield in Burg. The first flight is recorded with Fw. Hans Fryba in the rear seat, the second one with Uffz. Karl Braun.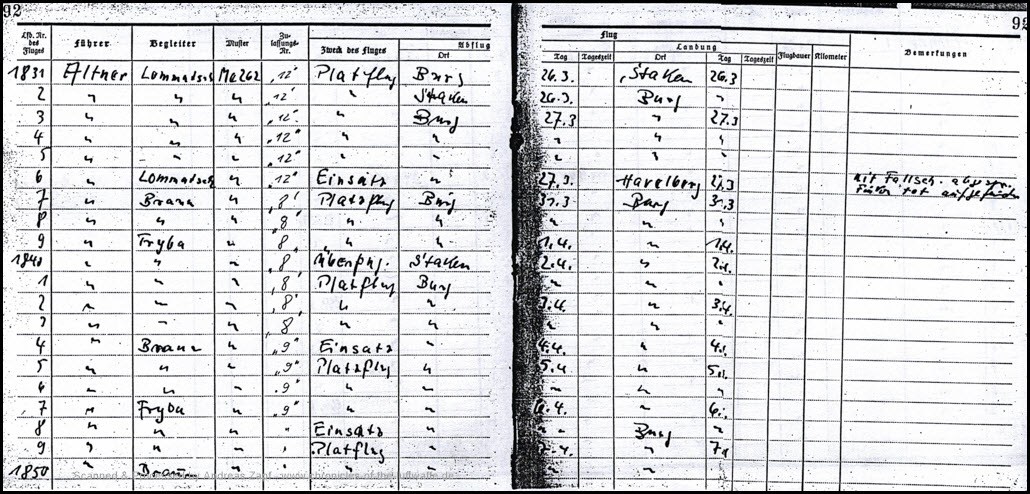 Possibly, the 10./NJG 11 was engaged in interceptions of reconnaissance aircraft on this day as well. The Evening Report of the Luftwaffeführungsstab Ic reports:
"Against Reconnaissance Aircraft over Central Germany: 1. J. Div.: 2 Me 262 (10.JG.11[sic]), no successes, no losses."[3]BArch. RL 2-II/389. The section comes as an amendment to the Evening Report, contained in the Morning Report of April 8th, 1945
The unit mentioned here, "10.JG.11" is probably supposed to be "10.NJG.11" in which case the type assignment ("Me 262") makes sense.
| | | |
| --- | --- | --- |
| 1, 2. | ↑ | BArch. RL 2-II/389 |
| 3. | ↑ | BArch. RL 2-II/389. The section comes as an amendment to the Evening Report, contained in the Morning Report of April 8th, 1945 |