April 8th, 1945, starts with broken clouds in the early morning, then deteriorating conditions during the morning and – once the weather cleared up – with clear skies and a visibility of 10 – 20 km[1]BArch. RL 2-II/389.
According to his flight log, Herbert Altner is in Berlin-Staaken which usually means he is picking up one of the Messerschmitt Me 262 B-1a/U1 interim night fighters delivered to the unit.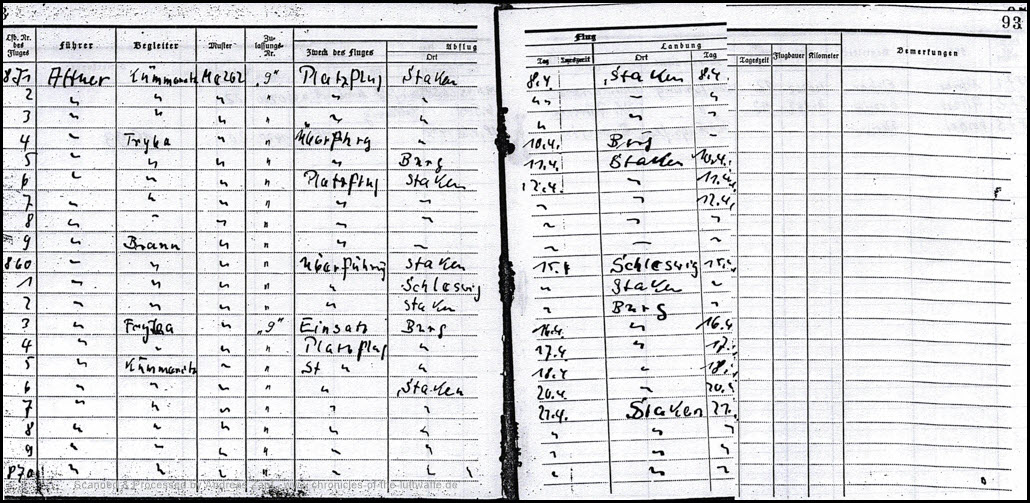 Altner's log says he was flying "Rote 9" but that is unlikely – this day sees a series of three flights around the Berlin-Staaken airfield, this time with Herbert Kümmritz in the rear seat. It is more likely that this aircraft – which in the afternoon is then transferred from Berlin-Staaken to Burg/Magdeburg is "Rote 11" – the fourth interim night fighter the unit received.
During the night of April 8th, 1945, to April 9th, the Royal Air Force is sending 28 Mosquitos to Berlin and 71 to Dessau[2]Middlebrook, Martin et al.; The Bomber Command War Diaries; Page 692. The Berlin-bound Mosquitos are approaching their target via a route from the Zuider Zee to Cloppenburg – Verden – Ülzen – Salzwedel – Neuruppin and to Berlin[3]BArch. RL 2-II/389, reaching their target at 23:26 hrs. and flying their attack until 23:43 hrs.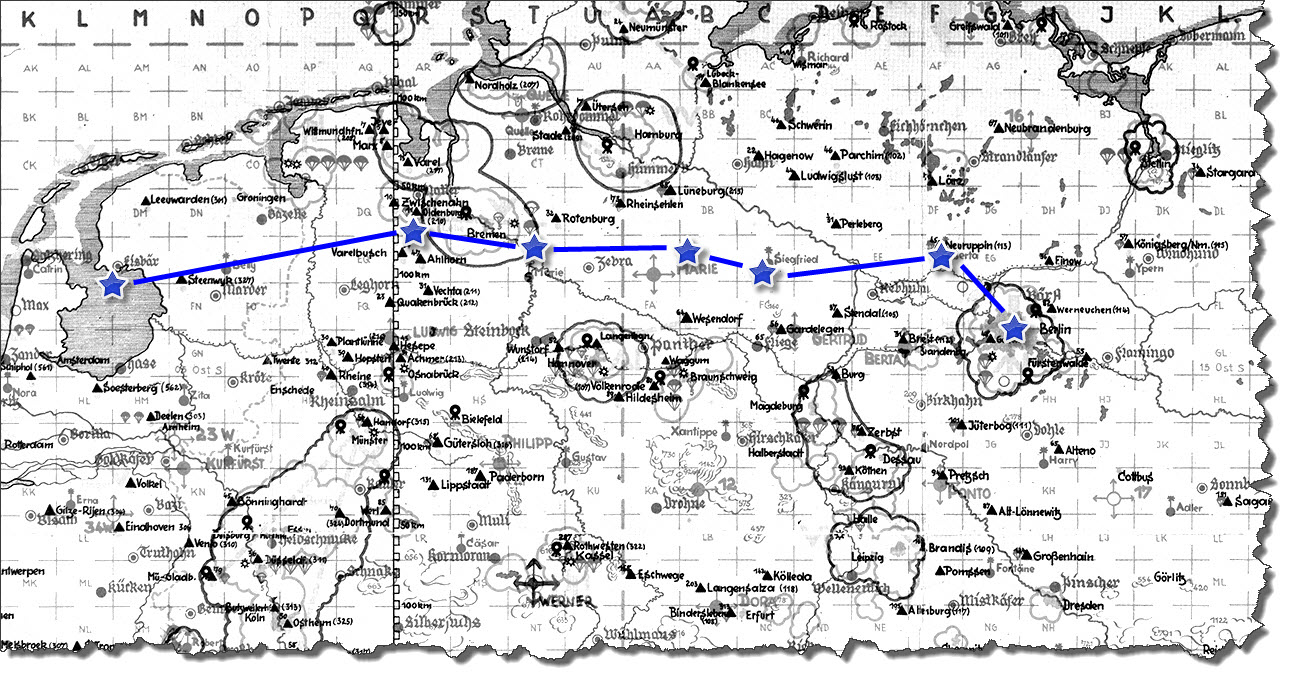 The men of 10./NJG 11 are intercepting the Mosquitos – documented in a section of an amendment to the Morning Report of Luftwaffeführungsstab Ic:
"Against Mosquitos to Berlin: 1. J. Div.: 6 Me 262, 1 Ar 234 (Kdo. Welter). No successes or losses."[4]BArch. RL 2-II/389
This is only partially correct: the Arado Ar 234 Night Fighter mentioned must have belonged to "Kommando Bonow", the unit tasked with testing the Ar 234 as night fighter (similar to "Kommando Welter" having been tasked to evaluate the Me 262). It is currently the only real indicator for a date the Ar 234 was actually flown on a nocturnal mission.
| | | |
| --- | --- | --- |
| 1, 3, 4. | ↑ | BArch. RL 2-II/389 |
| 2. | ↑ | Middlebrook, Martin et al.; The Bomber Command War Diaries; Page 692 |