April 11th, 1945, sees the "big clean-up" after the heavy attacks on the jet's airfields in central Germany the day before. One of the most urgent tasks is the transfer of any operational aircraft to airfields that are still in service and capable of mounting operational sorties
For 10./NJG 11, this means the departure to the west – the airfield of choice is Lübeck-Blankensee. Since the runway in Burg/Magdeburg is no longer in operation, the remaining jets of the units are using the nearby Autobahn Hannover – Magdeburg – Berlin for takeoff.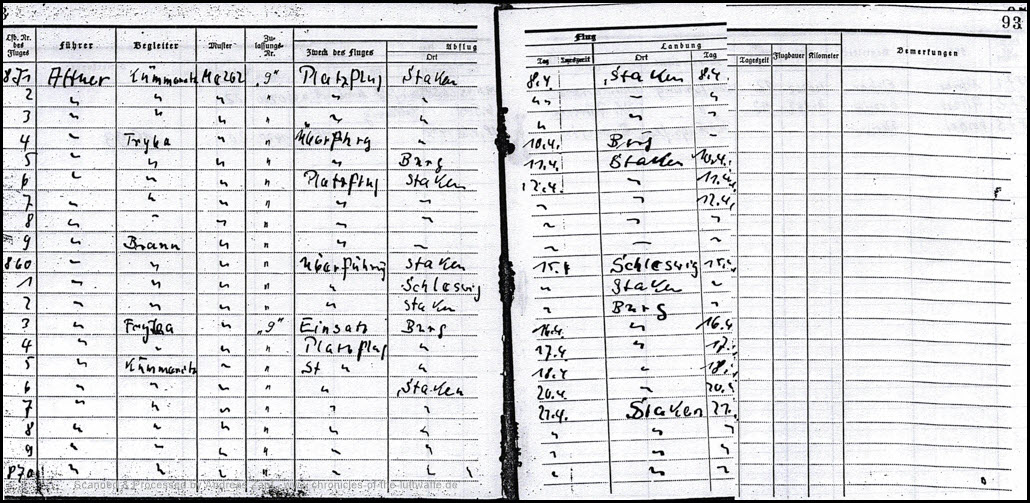 Lt. Herbert Altner's flight log shows a transfer from Burg to Berlin-Staaken – but that is likely wrong, the transfer should have gone to Lübeck, that is what all surviving members of the unit confirmed.
The exact date of the transfer from Burg/Magdeburg to Lübeck is still debatable – it is, however, definitely before April 18th, 1945 (since there is an ULTRA Record confirming 10./NJG 11 on the Autobahn near Reinfeld), maybe before the April 13th, 1945, if you consider the loss of "Rote 11" and the events of that night…
The night to April 12th, 1945, sees the next attack on Berlin – the Mosquitos of the Light Night Striking Force are back, in total, 104 Mosquitos attacked in three waves. One Mosquito is lost.
There is no mentioning of any counter measures by the Luftwaffe against this raid, yet one of the Mosquitos, KB502 of No. 163 Sqn., flown by F/O Houghton and F/SGT Stegman, is lost. She reportedly crashed near the village of Stülpe, south of Berlin.

Surprisingly, Peter Bodle in his book Mosquito to Berlin: Story of 'Bertie' Boulter quotes the former pilot of No. 163 Sqn. as follows:
"The crews who went to Berlin had a more adventurous evening and probably a bit more success. One plane was seen to be going down in flames. As KB502 failed to return with F/O Houghton and F/Sgt Stegman aboard, we had, reluctantly, to assime it had been them. One of the new Me 262 jets was seen again as well as a conventional twin-engined German fighter."[1]Bodle, Peter : Mosquito to Berlin: Story of 'Bertie' Boulter
And indeed, checking the Records of Events[2]The National Archives, AIR 27/1078, the following is noted:
Mosquito KB624, flown by F/O Lengford and F/O Bevan, reports "23:08 a/c seen to go down in flames, at last turning point.",
Mosquito KB538, flown by F/O Fotheringham and F/SGT Foley reports "Possible jet a/c seen diving on SE of target area.", and
Mosquito KB464, flown by W/O Coxall and W/O Boyle reports "Two twin engined enemy a/c seen 7 mins. after bombing, very short broad wings, thin engine nacelles:"
As unlikely as it seems, someone seems to have been hunting the Mosquitos – there is no evidence it was a pilot or crew of 10./NJG 11 – but a possibility.
1.

↑

Bodle, Peter : 

Mosquito to Berlin: Story of 'Bertie' Boulter

2.

↑

The National Archives, AIR 27/1078